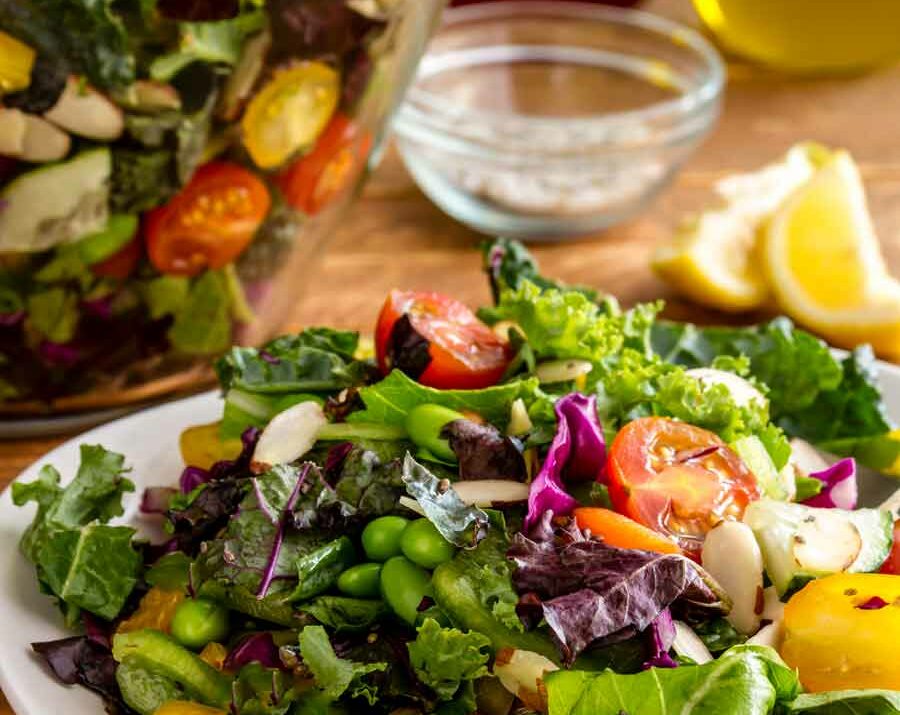 1 bunch lacinato kale, washed, picked clear of main stems, and in bite-sized pieces
1 pound shelled edamame beans (from freezer section)
1 cup "matchstick" carrots (variety of colors, if possible)
1 small, raw beet, cut into matchsticks (can also save a few beet leaves to add with the kale)
1 cup shredded green cabbage (or mix of red/green)
1 container cherry or grape tomatoes (add just before serving)
1 cup fresh blueberries
1 cup pomegranate kernels (from one pomegranate)
1 cup dried cranberries (or Craisins)
1 cup roasted cashew pieces (or walnuts/pecans)
1/2 cup roasted sunflower seeds
1/2 cup red onions, sliced or chopped
1 cup sliced fresh strawberries
1 cup Marzetta Simply Dressed Strawberry-Poppy Seed Vinaigrette (or favorite dressing)
1/2 pounds barely steamed, or raw asparagus
tangerine slices, optional
a few apple slices, optional
Mix all ingredients (except dressing). Add the dressing just before serving, and toss well.  This salad keeps well for several days in a tight container in the refrigerator.