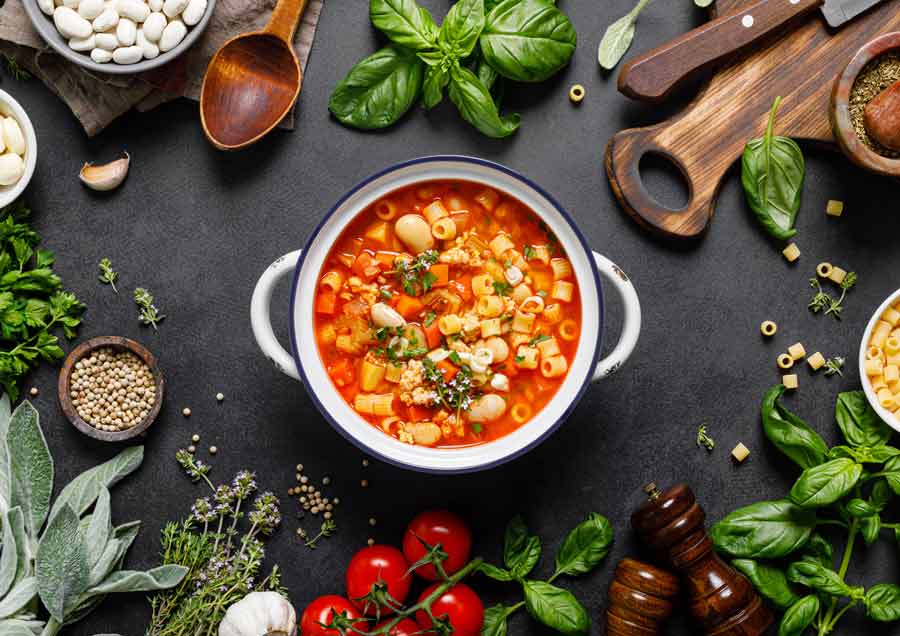 Ingredients
1 teaspoon grapeseed oil
1 medium yellow onion, diced
4 cloves black garlic
1 cup fennel chopped w/ frawns
1/4-1/2 teaspoon pink Himalayan salt
1/4-1/2 teaspoon freshly ground black pepper
1 teaspoon Calabrian chili flakes
1 sprig rosemary leaf
1 handful chopped fresh oregano
1 pound ground venison
2 zucchini, peeled and chopped
1 cup morel mushrooms
2 cups chopped kale
1 can Italian stewed tomatoes
2 cups organic chicken bone broth
2 cups low sodium V-8
1 box (8 ounces) quinoa elbow pasta
1 can cannelini beans
1 can dark red kidney beans
1/2 cup pepadew peppers & splash of pickling liquid from jar
Directions
Heat ceramic cast iron pot to medium. Add oil. Sauté onions, garlic, fennel, salt, and pepper. Cook until onion & fennel are tender.
Add herbs and ground venison. Cook until meat is browned.
Add zucchini, morels, and kale. Sauté a minute, stirring.
Add all remaining ingredients.
Cook until pasta is al dente.
Add additional broth or vegetable juice if needed. I prefer it thick.
Garnish with fresh basil & lemon zest. Season to taste.