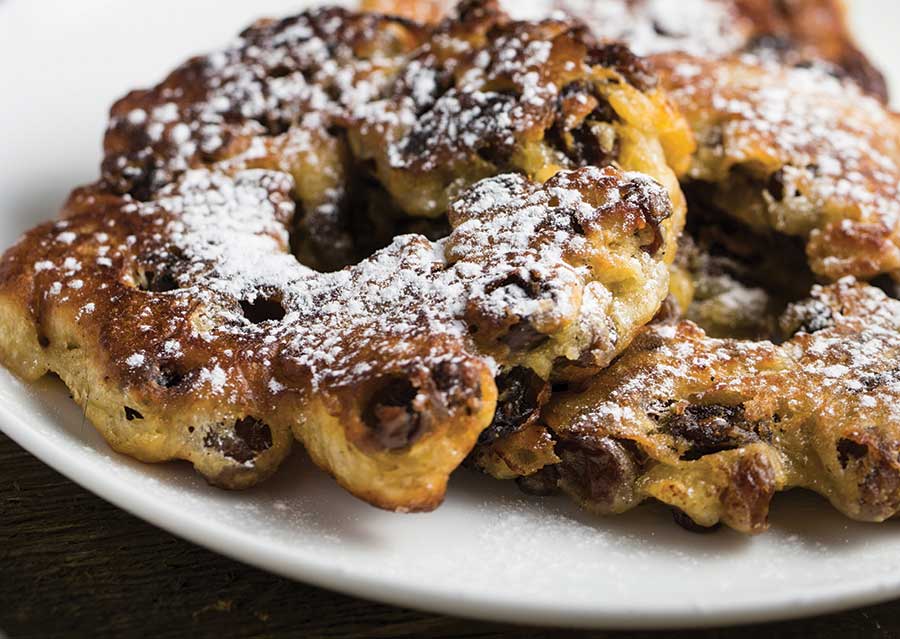 Submitted by: Dr. Jan and Diane Pol
This Dutch pastry is similar to a doughnut-style fritter. A reminder from his childhood in the Netherlands, Dr. Pol (Reality TV Veterinarian) says that big celebrations, especially on New Year's Eve, were never complete without this delicious treat.
Ingredients
1 package active
dry yeast

1 teaspoon sugar

¾ cup warm water

3 eggs, beaten 

2 cups milk

3 tablespoons light corn syrup

1 (1 pound) package raisins

4 cups flour

1 tablespoon salt

1 quart vegetable oil for frying
Directions
Dissolve yeast and sugar in water; let stand in a warm place for 30 minutes.

Combine eggs, milk, corn syrup, raisins, and yeast mixture in a large pot.

Sift flour and salt into the mixture and mix well for 2 to 3 minutes. Test a spoonful of dough to see if it will fall in a lump from the spoon. If not, add a little more water or milk.

Let rise in warm place for 2 hours.

Heat the oil for frying to 350 degrees in a heavy bottomed, deep skillet.

Drop by tablespoon into the preheated oil; fry the fritters until golden brown, about 2 minutes per side.

Remove them to a paper towel-lined plate and repeat with remaining dough. Dust with sugar while warm.