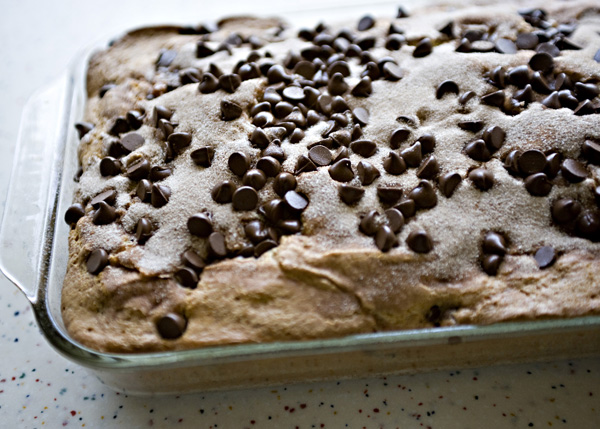 Ingredients:
1 3/4 cups boiling water
1 cup uncooked oatmeal
1 cup lightly packed brown sugar
1 cup white sugar
1 stick margarine (1/2 C.)
2 large or 3 small eggs
1 3/4 cups flour
1 teaspoon soda
1/2 teaspoon salt
1 tablespoon cocoa
3/4 cup walnuts
1 12-ounce bag of milk chocolate or semi-sweet chocolate chips
Directions:
Pour boiling water over oatmeal.  Let stand 10 minutes.
Add sugars and margarine.  Stir until margarine is melted.
Add eggs and mix well.
Sift together flour, soda, salt and cocoa.  Add to sugar mixture.  Mix well.  Add half the chocolate chips.
Pour into greased pan (9 x 13).  Sprinkle nuts and remaining chocolate chips on top.
Bake 35 minutes at 350 degrees.