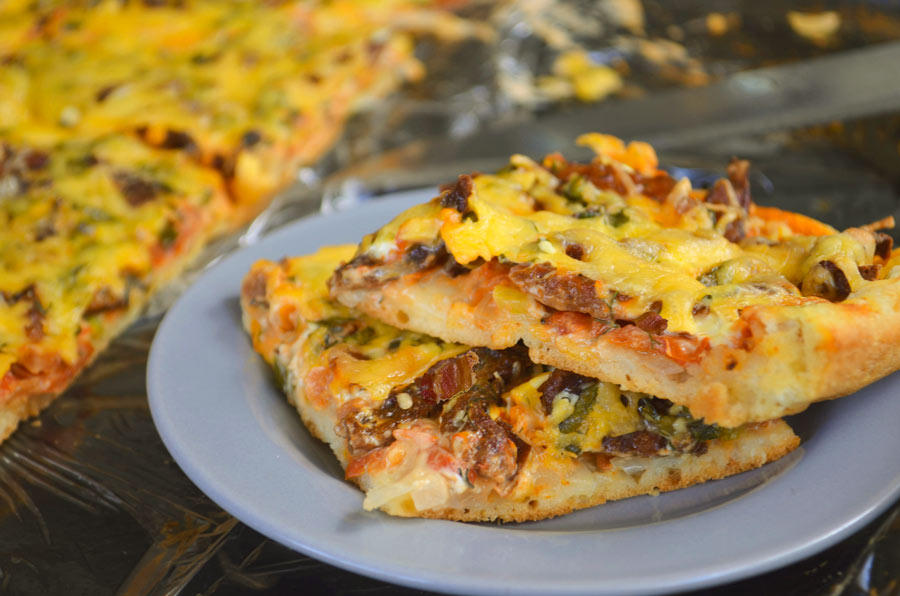 1 pound ground chuck hamburger, cooked and well drained

1 medium onion, chopped

8-ounce package mushrooms, washed and sliced (I use mini bellas)

4 cloves garlic, minced

1-2 teaspoons Montreal Steak seasoning

1/4-1/2 teaspoons red pepper flakes

red sauce of your choice, or homemade marina/spaghetti sauce

1 pound cheddar cheese, or cheese combination of your choice

1 pound bacon, cooked, drained and crumbled
Pizza Dough:
2 ½ teaspoons powdered yeast

2/3 cup + 4 tablespoons warm water


3 cups unbleached all-purpose flour

1/3 cup olive oil

1 teaspoon salt

Makes 2 pizzas. To make the dough, dissolve yeast in warm water. Then mix all the ingredients together. Knead for 10 minutes by hand. Use the hook if using a stand mixer and knead for about 3-5 minutes. Put dough in lightly oiled bowl and cover. Let rise until doubled, about 1 hour. To make a thin crust, cut the recipe in half. I usually make 2 pizzas or freeze ½ the dough.
Cook hamburger, onion, mushrooms, garlic and seasonings; drain. Preheat oven to 400 F. Roll out pizza dough on baking stone. Start with 6 spoonfuls of sauce and add randomly to crust and spread around. Do not put too much sauce on or your crust will be soggy. I usually sprinkle a little Italian blend seasoning and a tad more red pepper flakes on the sauce. Top with 1/2 the cooked hamburger mixture, 1/2 of the bacon crumbles and 1/2 of the cheese. Bake for 15 to 20 minutes on the middle rack in your oven to desired brownness of the cheese. Slice and serve.