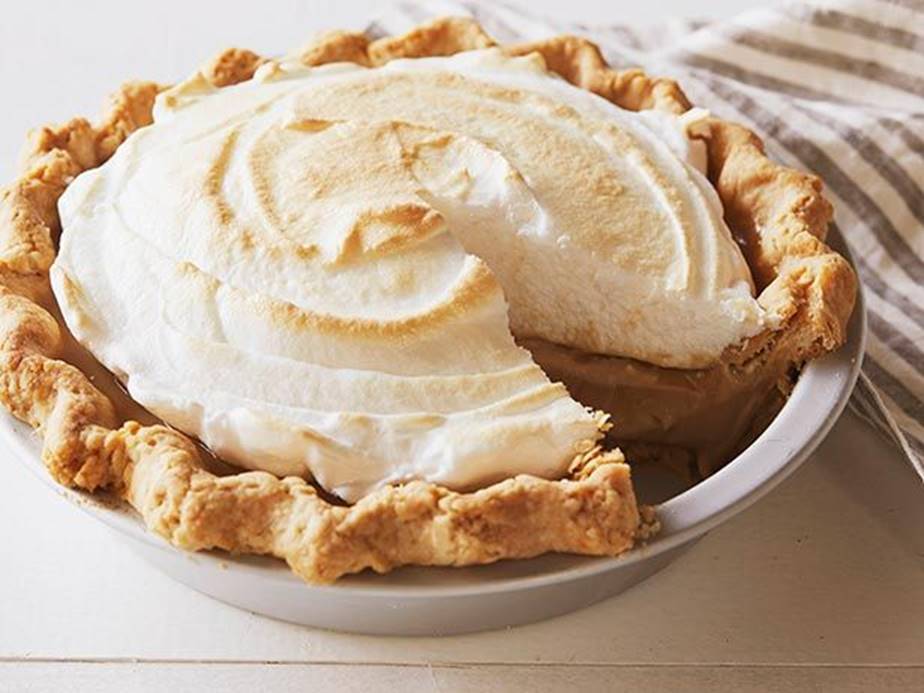 Ingredients
1 pre-baked pie shell
½ lb. light brown sugar
¼ lb. butter
½ c. water
1 3/8 c. milk, DIVIDED
2 egg yolks, lightly beaten
4 T. cornstarch
1 t. vanilla
2 egg whites (for meringue)
3 T. sugar
Directions
In a heavy cast iron skillet on high heat or electric frying pan, caramelize the sugar, and then add the butter.
When butter is melted, pour in ½ cup water and bring to a full boil. The sugar will crystallize.
Continue to boil and stir until the crystals have dissolved. Patience!
Remove from heat and cool to 150 degrees or less BEFORE the next step.
Add 1-1/8 cups milk saving the final ¼ cup for later. Bring to a slow simmer.
Gently stir the egg yolks, the final ¼ cup milk, and cornstarch together before adding to the sauce.
Slowly boil until thick.
Remove from heat and slowly beat while adding the vanilla. Pour into pre-baked pie shell.
NOTE: if the mixture is a little lumpy or if you want more volume, you can beat the pudding before pouring into the pie shell.
Make the meringue: In small mixing bowl beat the 2 egg whites at high speed until foamy.
Gradually beat in the 3 tablespoons of sugar until stiff peaks form.
Spread meringue evenly over hot filling, sealing to crust.
Bake in 350-degree oven 15 to 20 minutes or until golden.
Cool on rack; refrigerate before serving.