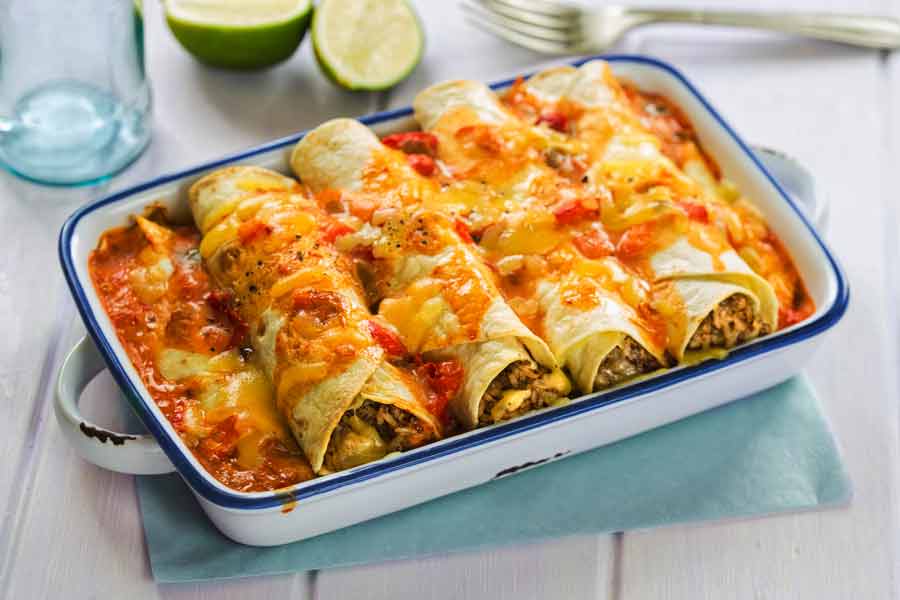 1 pound ground pork, browned (I use chorizo but you could use plain/Italian too)
2 cups shredded Mexican blend cheddar cheese, divided
favorite jarred salsa
4 ounce can diced green chiles, drained
diced green onions, for topping (optional)
8 (8-inch) flour tortillas (I use whole wheat)
6 large eggs
1 cup heavy cream + 1 cup unsweetened milk of choice (I use unsweetened Soy milk)
1 tablespoon flour
Optional Serving Sides:
sour cream
hash browns/tater tots
Mexican street corn
more salsa
Note: I prep this recipe around 10:00 am for a 7:00 pm dinner. Alternatively, you could prep it the night before for a hearty breakfast.
Spray 9×13 pan with cooking spray (I use a metal pan but should work with glass, though cooking time may vary). Combine browned sausage with 1 cup cheese and the diced green chiles. Place 1/8 (around ½ cup+) of the mixture down the center of each tortilla. Roll up and place seam side down in the baking dish. In another large bowl whisk/beat the eggs, heavy cream, milk, and flour (I usually shake the flour with a portion of the milk in a small lidded container (around 4 ounces) to ensure the flour is blended in, to aide in the thickening of the mixture). Pour egg mixture evenly over the tortillas in the pan.  Cover the dish and place in fridge for 6+ hours (this allows the tortillas time to absorb the egg mixture and prevent it from being too runny). Preheat the oven to 350 F when ready to bake.  Remove cover from the dish and sprinkle the remaining 1 cup of cheese over the tortillas and bake covered with foil in the oven for 40-45 minutes. Uncover dish and bake for another 10-15 minutes. Remove dish from oven and spread as much salsa as you want on top of the tortillas.  You can add the 'optional' diced green onions at this point too. Serve with remaining salsa along with any other chosen sides. Enjoy!