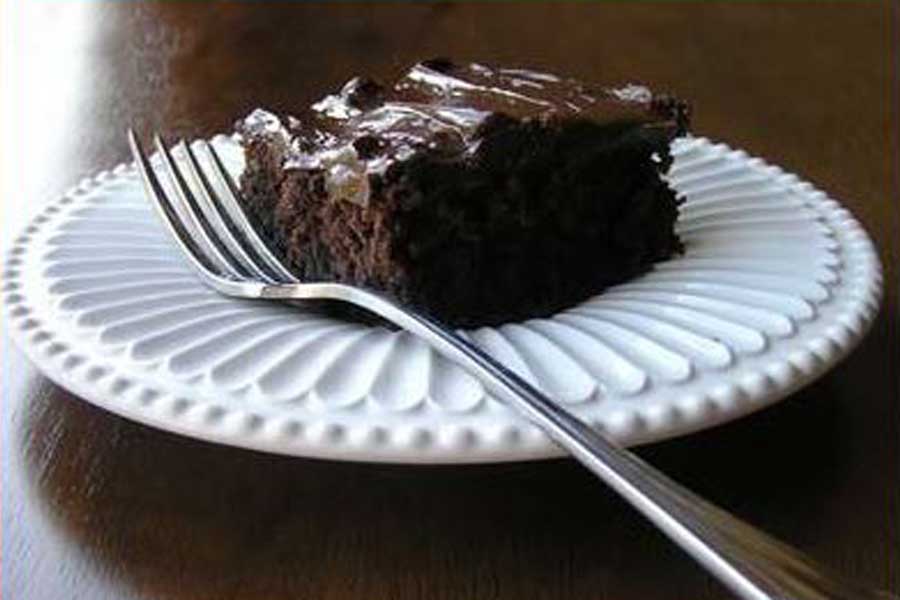 Ingredients
3 cups all purpose flour
1 1/2 cups granulated sugar
6 tablespoons powdered cocoa
1 teaspoon salt
2 teaspooons baking soda
2/3 cup vegetable oil
2 teaspoons vanilla
2 tablespoons white vinegar
1 cup cold water
Frosting Ingredients (not vegan)
1 cup granulated sugar
1/8 teaspoon salt
3 tablespoon cornstarch
4 tablespoon powdered cocoa
1 cup HOT water
8 teaspoon margarine
2 teaspoon vanilla
Directions
Sift together flour, sugar, cocoa, salt and baking soda into an un-greased cake pan. Mix with a fork until it looks uniform in color.
Make 3 holes in the mixture.
Pour oil into the first hole, don't worry if it overflows.
Pour vanilla into the second hole and third holes.
Add cold water.
Mix with a fork until it is well blended.
Bake in a preheated 350 degrees oven for 25 – 30 minutes. A toothpick should come out clean when inserted in center of cake.
Frosting Directions
In a medium saucepan mix together sugar, salt, cornstarch, cocoa and hot water.
Cook on medium heat stirring constantly until mixture becomes a little thicker than pudding.
Add margarine and vanilla and stir until blended.
Pour over hot cake, (do not cool frosting before using). Use a spatula to smooth the frosting out.
Let the cake cool and then it's best to keep it refrigerated as it is a very moist cake and will only keep for a couple of days if not refrigerated.
Enjoy!