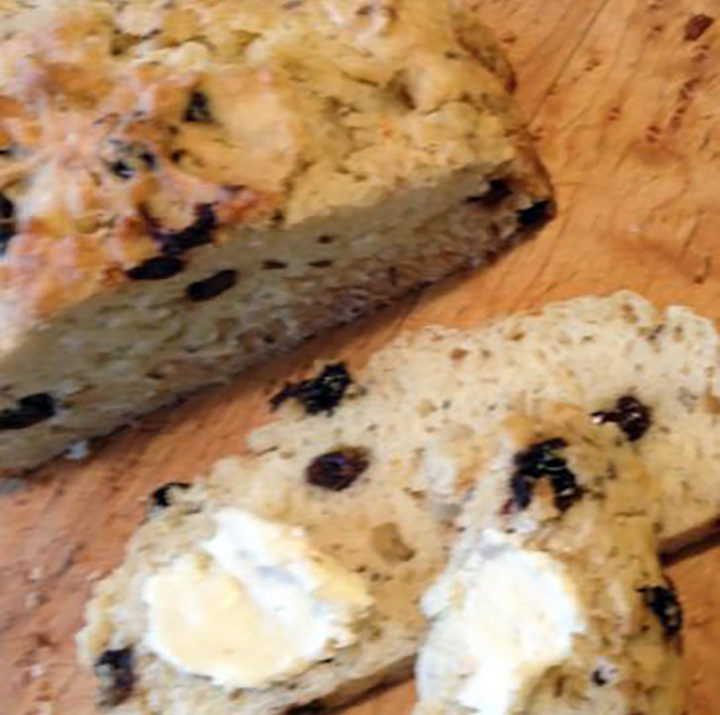 Ingredients
1 cup raisins
1/4 cup Irish whiskey (airline-sized bottle)
3 cups flour
1/4 cup sugar
1 teaspoon baking soda
1/2 teaspoon baking powder
1/2 teaspoon salt
1/4 teaspoon cream of tartar
1 tablespoon caraway seeds
2 teaspoon orange zest, optional
1 cup buttermilk
Directions
Put raisins and Irish whiskey in small bowl, cover with plastic wrap and microwave 1 minute.  Set aside, covered, to macerate.
Whisk together the dry ingredients, caraway seeds and orange zest.
Drain raisins, reserving liquid.
Add raisins and buttermilk to flour mixture.  Stir to combine.
Turn out onto floured board and shape into two round loaves.
Place on greased cookie sheet.  Use a sharp knife to cut an "X" into top of loaves.
Bake in a preheated 350 degree oven for 45 to 50 minutes, or until loaves sound hollow when tapped.
Blend some of the reserved Irish whiskey with softened butter.  Serve with bread.