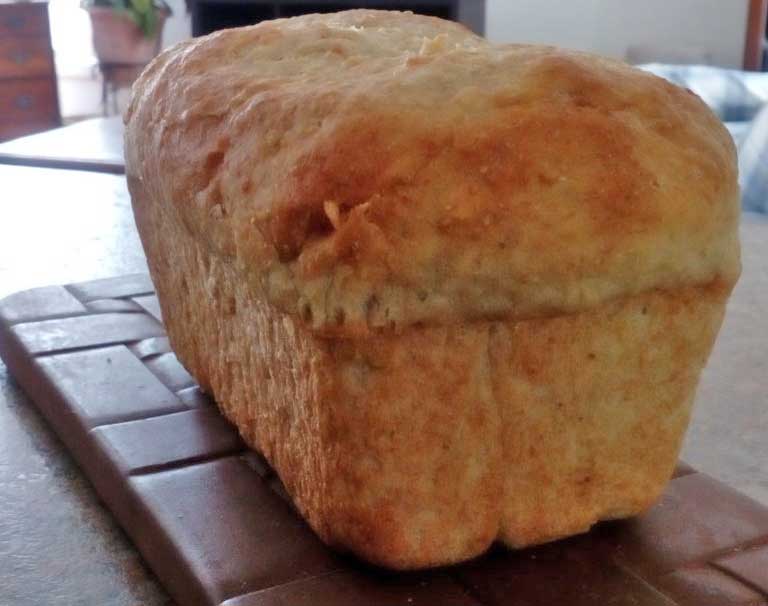 Ingredients
1 cup quick cooking rolled oats
2 cups boiling water
1 package active dry yeast
1/4 cup warm water(105-115 degrees)
1/3 cup honey
1 tablespoon butter
2 teaspoons salt
1 beaten egg
5 1/2 cups flour (  I use 50% bread flour and 50% hard white whole wheat flour)
Directions
Place rolled oats in large bowl and pour the boiling water over the oats. Let stand for 15 minutes or till mixture is lukewarm.
Sprinkle yeast over the 1/4 cup warm water in a small bowl, stir to mix. Let stand 5 minutes to proof.
Add honey, salt, butter and yeast mixture to the oat mix. Add egg. Mix well.
Stir in enough of the flour so dough can be handled ( approximately 4 1/2 to 5 cups). Dough will be sticky due to honey and oats)
Turn dough onto a lightly floured surface and knead for 2 minutes. Cover and let rest for 10 minutes. Knead dough until elastic, but still rather sticky, adding flour as needed.
Place dough in a greased bowl and turn to grease surface of dough. Cover and let rise in a warm place till doubled.
Punch dough down and turn onto lightly floured surface. Divide dough in half. Shape each piece into a loaf. Place loaves into greased 8x4x2-inch pans. Cover and let rise in a warm place till doubled in size.
Bake at 350 degree oven for 45 minutes or till loaves sound hollow when tapped. Remove from pans and cool on wire racks.