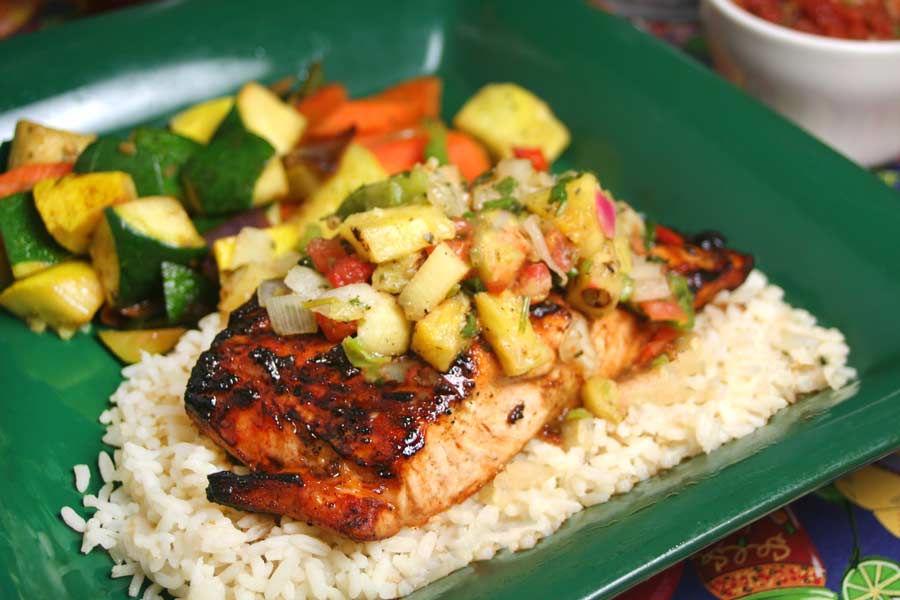 Salsa:
2 cups chopped pineapple
1/2 cup chopped red onion
1/4 cup chopped cilantro
1 jalapeño, chopped with seeds
juice from one lime
1/2 teaspoon chili powder
salt and pepper, to taste
Salmon:
8 ounces salmon fillet
2 teaspoons olive oil
1/4 teaspoon cayenne pepper
1/2 teaspoon chili powder
1/2 teaspoon garlic powder
1/4 teaspoon salt
1/8-1/4 teaspoon black pepper
juice from one lime
Directions
Preheat your to high heat, around 450 F. Combine chopped pineapple, red onion, cilantro and jalapeño in a bowl. Season with lime juice, chili powder, salt, and black pepper. Place in refrigerator while preparing salmon. Coat your salmon with the olive oil and season with cayenne pepper, chili powder, garlic powder, salt, and black pepper. Place salmon skin side down on grill and cook covered for 6-8 minutes. Flip salmon and grill for an additional 2 minutes. Alternatively, salmon can be wrapped in aluminum foil and placed the grill to cook for 14-16 minutes. Remove salmon from heat and squeeze lime juice on fish. Serve with salsa and rice or tortillas.