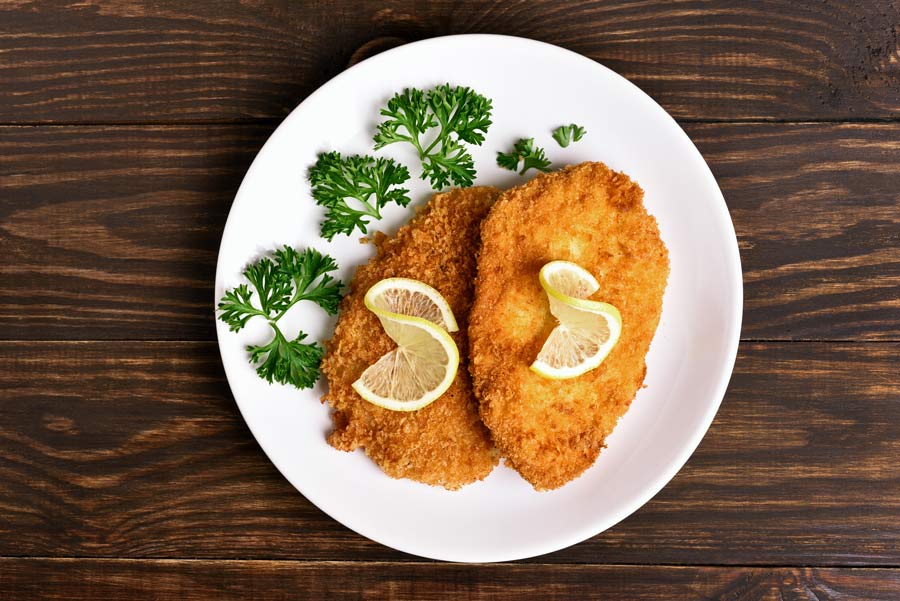 Ingredients
2 pounds venison tenderloin
1/4 cup vegetable oil
2 teaspoons bacon drippings
3/4 cup flour
1 teaspoon salt
1/4 teaspoon black pepper
1 egg (lightly beaten)
2 tablespoons milk
1 cup dry bread crumbs
1/2 cup buttery round cracker crumbs (crushed)
2 tablespoons lemon juice
Directions
Cut venison into 1/2 inch steaks. Slice each steak in half horizontally from smallest to largest side until there is only a very small section keeping 2 halves connected. Slice a few small scores on the outer edges to keep from curling while frying.
Preheat oil and bacon drippings in a large heavy skillet on medium heat.
In a large shallow dish, combine flour, salt and pepper.
In a separate shallow bowl, beat together egg and milk.
In another shallow dish, combine bread crumbs and cracker crumbs.
Dredge the steaks in the seasoned flour. Using a meat mallet, pound the steaks until just less than their 1/4 inch thickness.
Dip the steaks in the egg mixture. Coat both sides with cracker and bread crumb mixture.
Place the steaks in single layer into the hot oil. Fry for 2-3 minutes on each side or until golden brown. Drain on paper towels. Sprinkle each steak lightly with lemon juice. Serve immediately.