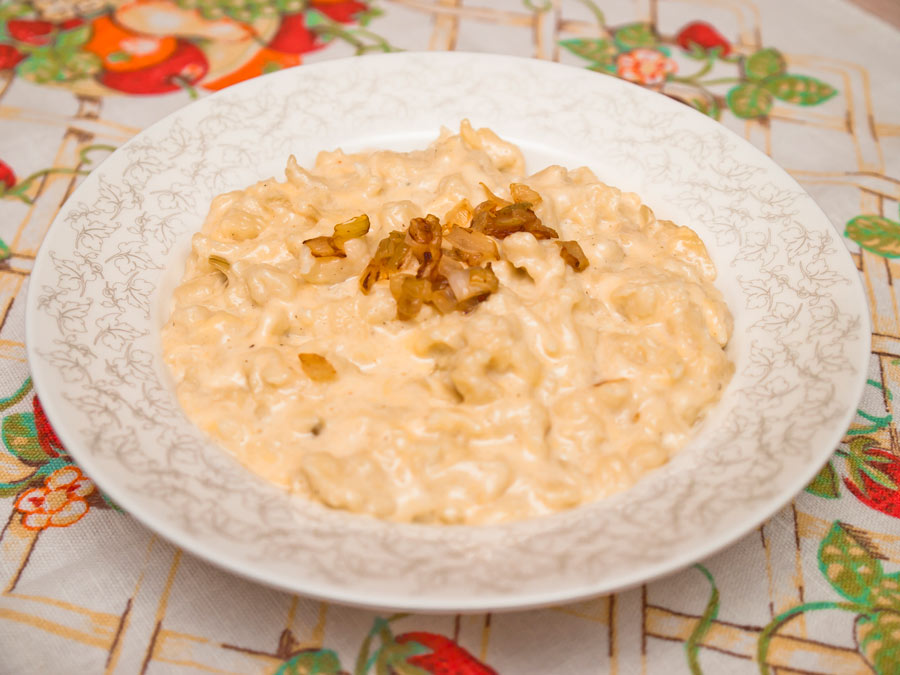 1 package Bechtle spaetzle (about 1 pound)
salted water, as needed
2 ounces salted butter
1 tablespoon finely sliced garlic cloves
2 cups sliced red onions
2 cups sliced white mushrooms
1/4 cup all-purpose flour
1 1/2 cups beef stock or beef broth
6 ounces sour cream
1 tablespoon fresh dill
salt & pepper, to taste
2 cups shredded Bavarian Swiss cheese
1/3 cup breadcrumbs
1/4 cup chopped parsley
Blanch spaetzle in salted water and cook until al dente, drain and reserve. In a medium pan over medium heat, melt butter and sauté garlic and onions until tender. Add mushrooms and cook until mushrooms are tender. Add flour making a paste and cook an additional 3 to 5 minutes. Add beef stock and stir to make a medium thick sauce. Cook 2 to 3 minutes at a low simmer. Remove sauce from heat and stir in sour cream, dill, salt and pepper. Place spaetzle in large bowl and pour sauce over noodles, tossing thoroughly. Spray 9″ x 13″ pan with oil and pour noodle casserole mixture into pan. Arrange shredded cheese over the top and sprinkle with bread crumbs. Bake at 375 F for 20 to 30 minutes until cheese is melted and sauce is bubbly. Allow to rest 10 minutes before serving. Sprinkle chopped parsley over top.
This recipe is a wonderful side dish that will go well with just about any pork, chicken, or beef entree.