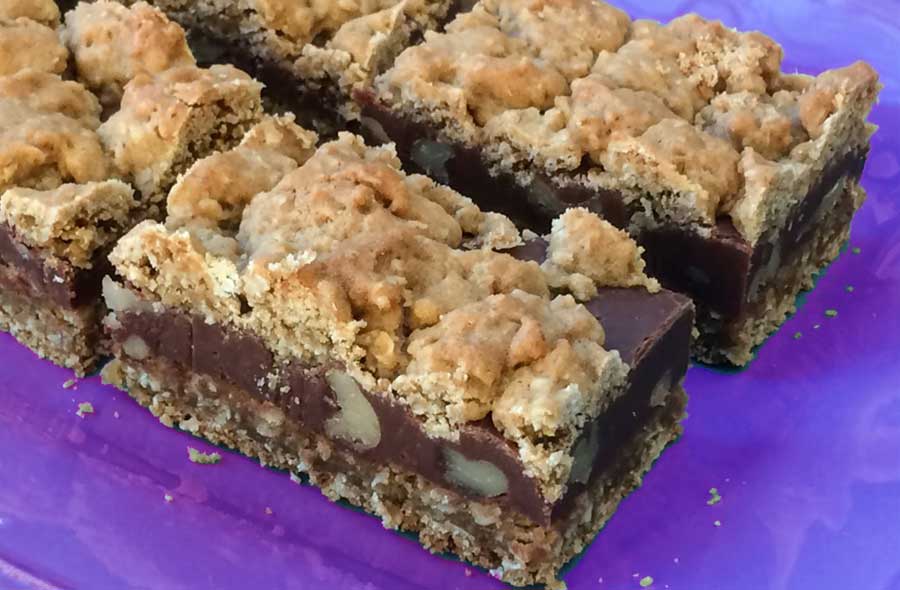 Ingredients
One (12 ounce) pasemi-sweet sweet chocolate chips
One can (14 ounces) Eagle Brand sweetened condensed Milk
2 tablespoons butter
2 teaspoons vanilla
1/2 cup chopped walnuts
2 1/2 cups flour
1 cup butter
2 cups brown sugar
2 eggs
1 teaspoon vanilla
3 cups oatmeal
1/4 cup walnuts
Directions
Grease a 9×13 pan or spray with butter flavor Pam.
In a double boiler melt the chocolate chips, Eagle Brand milk and butter.
Add vanilla and nuts when chocolate chip mixture is melted. Set aside.
Cream butter and gradually add brown sugar. Add eggs and vanilla, blend well.
Stir in dry ingredients and oatmeal.
Press 2/3 mixture into greased pan.  Spread the chocolate filling over the pressed mixture. Crumble the remaining mixture over filling.
Sprinkle walnuts on top and bake at 350° for thirty minutes or until light brown.  Cool and cut into bars.