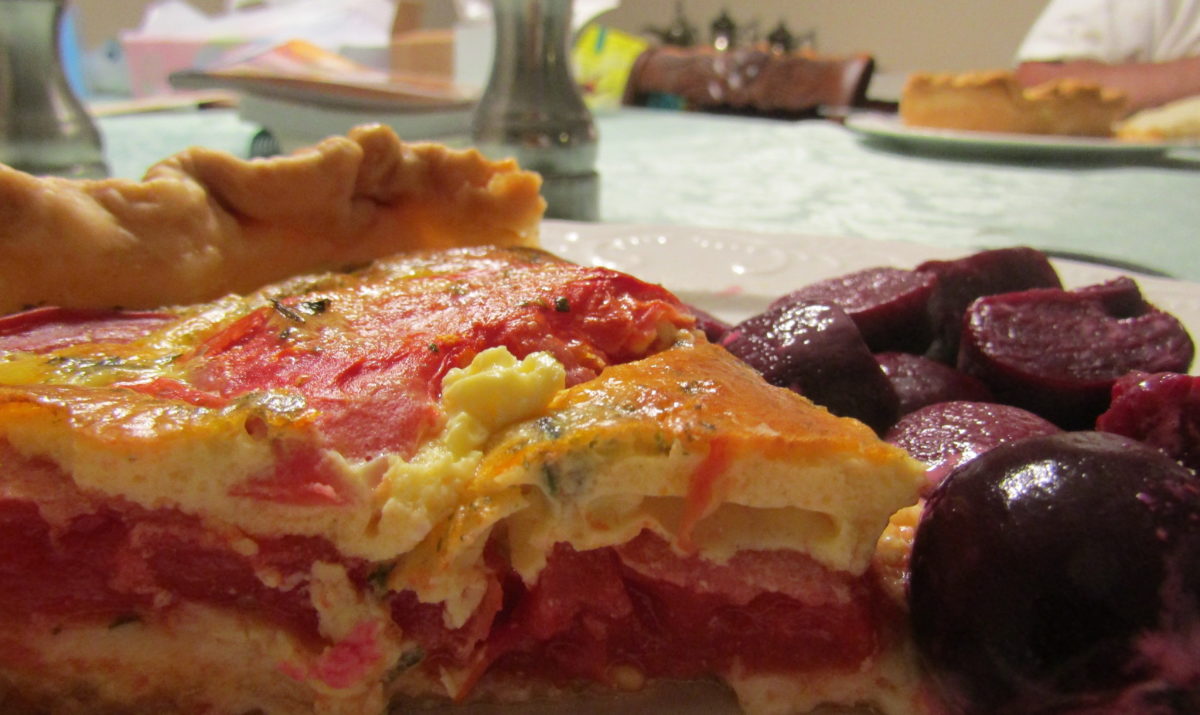 Ingredients
Crust (This makes two 9-inch tart shells)
2½ cups AP flour
3 tablespoons semolina flour
1 teaspoon salt12 tablespoons [1½ sticks] cold, unsalted butter
3 tablespoons cold solid shorteningIce water
(Or use prepared pastry crust of your choice)
Filling
12-15 plum tomatoes, cored and cut into ¼"-thick rounds, or a couple of big heirloom tomatoes, fresh from the garden (my choice!)
2 tablespoons Dijon mustard *
1 cup coarsely grated Gruyere cheese
1 teaspoon Herbes de Provence
2 large eggs
¼ cup light cream
1 teaspoon salt
A few turns of freshly ground black pepper
Directions
Crust:
Preheat oven to 400°F.
Put the flours and salt in food processor. Pulse a couple of times, just enough to integrate the ingredients
Add the butter and shortening all at once and pulse until the mixture looks like moist crumbs and no chunks of butter or shortening remain
Sprinkle ice water over the surface of the dough. Repeat with 3 more tablespoonsful. Pulse to just bring the dough together. The dough should be past crumbly, but holding together.
Cut the dough in half and wrap each half in plastic wrap. Press each half to form a disk. Refrigerate at least 30 minutes before rolling out.
Then roll out one disk to ¼" thick.
Fit into your tart pan, and chill 30 minutes. Dock the bottom of the tart. Line it with parchment or foil, and weigh it down with pie weights or dried beans.
Place tart shell on center rack in the oven and bake 10 minutes. Remove paper and weights from the pan. Return it to the oven and bake another 10-15 minutes or until the tart is a light-golden brown. Remove from the oven and set on wire rack to cool.
Filling:
Preheat oven to 375°F.
Put the tomato slices in a colander and place in the sink. Let them sit for 15 minutes to drain off any excess liquid.
Spread the mustard evenly over the tart shell. Sprinkle the cheese over the mustard and sprinkle the Herbes de Provence over the gruyere cheese.
Working from the outside in, lay the drained tomato slices in overlapping, concentric circles, covering the crust completely.
Whisk the eggs in a bowl, whisk in the cream, salt and pepper. Pour this custard evenly over the tomatoes until it comes to about ¼ inch from the top edge of the crust.
Bake for 1 hour, to 1 hour and 20 minutes, or until the custard is set.