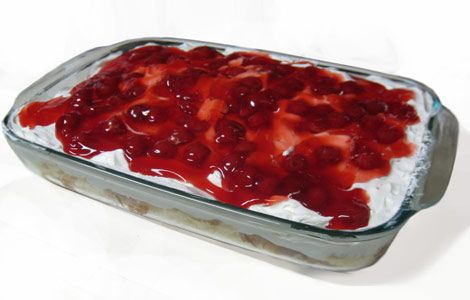 Ingredients
Crust:
1/2 cup brown sugar
1 cup chopped nuts
1 cup butter or margarine, softened
2 cups flour
dash salt
Filling:
8 ounces cream cheese, softened
1 cup confectioner's sugar
1 teaspoon vanilla
16 ounce Cool Whip
Topping:
21 ounces cherry pie filling
ground nuts, optional
Directions
To make the crust, in a medium bowl, mix together the brown sugar, chopped nuts, butter/margarine, flour and salt. Press into a 9×13 pan and bake at 400 F for 15 minutes. Cool 10 minutes and break up with fork. To make the filling, in a large bowl, cream the cream cheese. Then add the confectioner's sugar and vanilla, and cream together. Add the Cool Whip and mix well. Spread the filling on the crust in an even layer. Refrigerate overnight. For the topping, spread the cherry pie filling on top of the pie and add chopped nuts, if preferred.