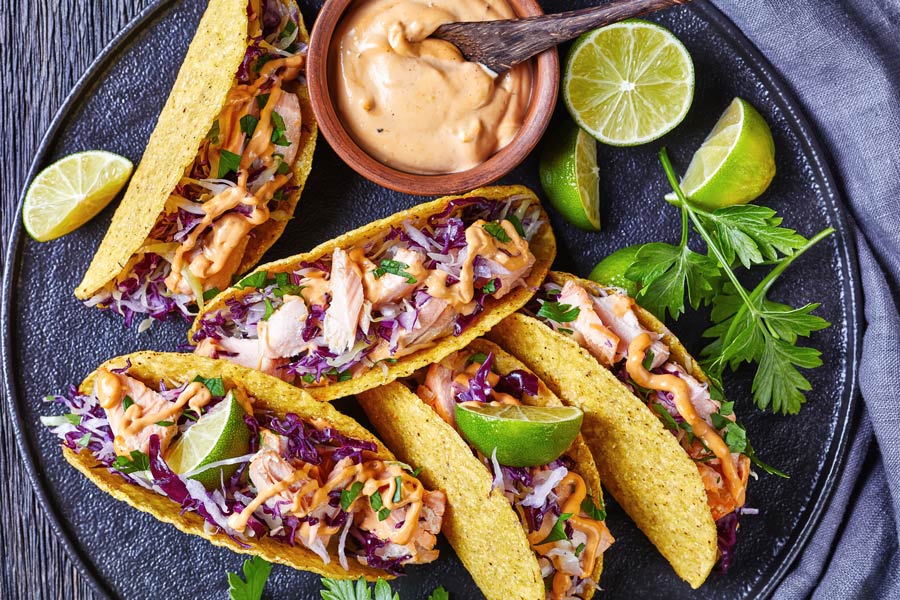 Marinade:
zest of 1 lime
2 tablespoons lime juice
2 tablespoons olive oil
pinch of salt and pepper
Salsa:
4 radishes, finely sliced
1/2 cup finely chopped red onion
4 green onions, finely sliced
3/4 cup finely chopped red cabbage
1 medium fresh tomato, finely chopped
chopped cilantro or parsley
2 tablespoons lime juice
2 tablespoons olive oil
Crema:
1/3 cup sour cream
1 tablespoon lime juice
Tacos:
1 pound mild white fish
4 corn tortillas
1 avocado, sliced
seeded and chopped jalapeño peppers, if desired
bottled hot sauce, if desired
Whisk together the marinade ingredients. Lay fish flat in a glass pan and pour marinade over; turn a few times to coat. Let rest 10 minutes, then turn over for another 10 minutes. While the fish is marinating, prepare the salsa. In a medium bowl, add the radishes, red and green onions, cabbage, tomato and cilantro/parsley. Add the 2 tablespoons lime juice and 2 tablespoons olive oil and stir to coat; set aside. To prepare the crema, mix the sour cream and 1 tablespoon lime juice in a small bowl and set aside. Next, char the tortillas and set aside. In a skillet (lightly sprayed with vegetable spray) over medium heat, place tortillas, one at a time, and keep moving in the pan. Turn to char both sides; remove from pan and set aside. Using the skillet, on medium heat, add a bit of olive oil. Put a tablespoon or two of the marinade in the pan and cook about a minute, then add the fish. Cook about 5 minutes depending on the thickness of the fish. Flip and cook another 3-4 minutes until fish is flaky but not dry. Remove fish to a plate and cool 1 or 2 minutes, and cut into chunks. Assemble the tacos on top of the tortillas. Lay thin slices of avocado on each tortilla, add the fish and top with the salsa (a good amount). Add crema and enjoy. Add hot sauce and/or jalapeño peppers if desired.