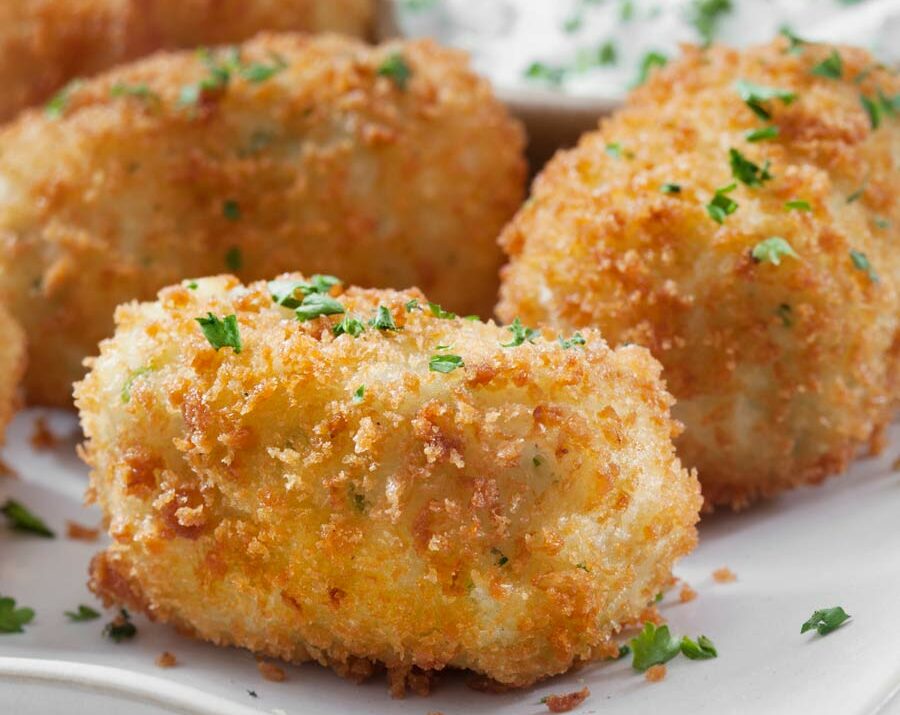 oil, for frying
4 cups mashed potatoes (leftover or pre-made, or store-bought can be used)
3 ounces cream cheese, softened
2 tablespoons fresh chives, chopped
3 eggs, beaten
1/2 cup grated parmesan cheese
1/2 teaspoon garlic powder
1/2 teaspoon salt
1/4 teaspoon ground black pepper
1 cup breadcrumbs
1 cup flour
Fill a large, deep pot halfway with oil. Heat over medium heat until it reaches 350 F. While the oil is heating, mix together the mashed potatoes, cream cheese, chives, one egg, parmesan cheese, garlic powder, salt and pepper in a large bowl. Roll potato mixture into balls about the size of a golf ball and set aside. In three bowls, set out the breadcrumbs, flour and the remaining 2 eggs beaten with a tablespoon of water. Dip each ball into the flour first, shaking off the excess, then into the beaten egg, letting the excess drip off, and lastly into the breadcrumbs. When oil reaches about 350 F, fry the balls in batches, being careful not to overcrowd the pot as you fry. Fry for 3-4 minutes until golden brown and transfer to paper towels. While still warm, top with salt and parmesan cheese. Serve immediately. Enjoy!