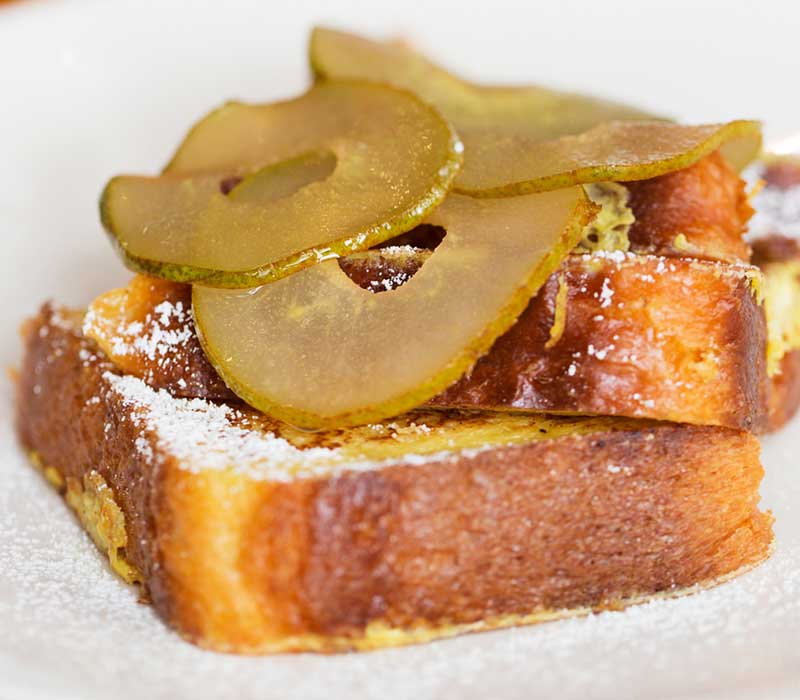 Ingredients
6 ounces cream cheese, softened
5 tablespoons milk, divided
12 slices cinnamon-raisin bread
6 tablespoons butter, divided
16 ounces pear halves (drained, syrup reserved and sliced)
3 tablespoons sugar, divided
1/3 cup coarsely chopped walnuts
3 eggs
1 teaspoon vanilla
1 teaspoon lemon juice
Directions
Mix softened cream cheese with 2 tablespoons milk to make a creamy spread. Spread on 6 slices of cinnamon raisin bread and put the other 6 slices on top of them to make 6 sandwiches.
Heat 2 tablespoons butter on medium-high in a frying pan. Add sliced pears and sprinkle with 2 tablespoons sugar. Sauté until warm, about 3 minutes. Carefully turn pears, sprinkle with walnuts and remaining 1 tablespoon sugar; turn to high heat. Sauté until sugar begins to caramelize slightly, carefully stirring pears.  Keep warm.
While the pears cook, heat up a frying pan and add the remaining 2-4 tablespoons butter.
Whisk eggs, remaining 3 tablespoons milk and vanilla together.
Dip the cream cheese-cinnamon bread sandwiches in the egg batter and place in the hot frying pan.
Flip when browned.
Serve with Sautéed pears, walnuts and maple syrup.