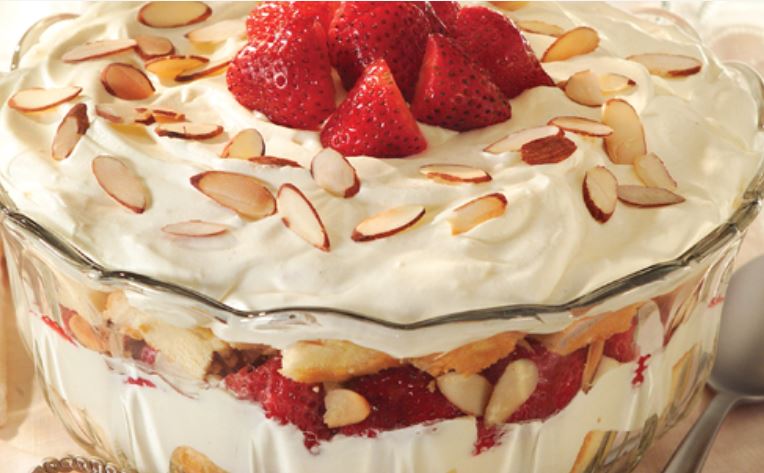 Ingredients
1-1/4 cup cold milk
1 (4-ounce) package vanilla instant pudding
1/4 cup rum
1/8 tsp ground nutmeg
3-1/2 (8 ounce) cups whipped topping
1 pound cake (cake loaf)
2 tablespoons strawberry jam
1 (11 ounce) can mandarin orange sections, drained
1-1/2 cups strawberries, halved
1/4 cup sliced almonds, toasted
Directions
Pour milk into medium bowl. Add pudding mix, 2 tablespoons of rum and the nutmeg. Beat with wire whisk until well blended, 1-2 minutes. Let stand 5 minutes or until slightly thickened. Fold in 1/2 of the whipped topping.
Cut rounded top off pound cake; reserve for your husband for snacking. Slice remaining cake horizontally into 4 layers. Sprinkle layers evenly with remaining rum. Spread jam on surface of two layers and top these with the remaining two layers. Cut cakes into 1-inch cubes.
Arrange about 1/2 of the cake cubes on bottom of 2-1/2 quart trifle dish or straight side bowl. Spoon 1/2 of the pudding mixture into bowl. Top with 1/2 of the fruit and almonds. Cover with remaining cake cubes. Spoon remaining pudding mixture over cake. Top with fruit and almonds. Garnish with whipped topping and any remaining strawberries and almonds.