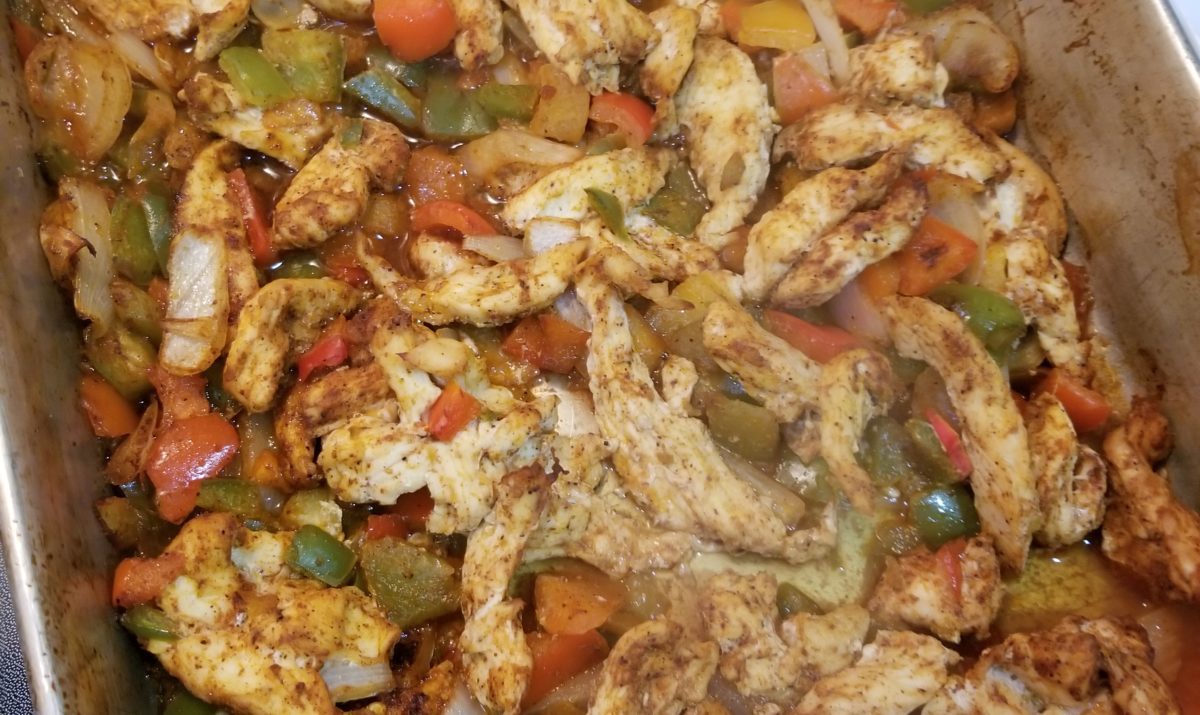 Ingredients
Fajita Seasoning
1 tablespoon chili powder
1/2 tablespoon smoked paprika
1/2 teaspoon onion powder
1/4 teaspoon garlic powder
1/4 teaspoon cumin
1/8 teaspoon cayenne pepper (1/4 teaspoon for spicier version!)
1 teaspoon sugar
1/2 teaspoon salt
Fajitas
1 large onion
1 yellow bell pepper
1 red bell pepper
1 green bell pepper (or pre-chopped store packaged bell peppers, found in produce section)
1 pound chicken breast
2 tablespoons vegetable oil
tortillas of choice, OR over lettuce
Directions
Preheat oven to 400 F.
Mix all fajita seasoning spices (chili powder, smoked paprika, onion powder, garlic powder, cumin, cayenne pepper, sugar, and salt) together in small bowl and set aside.
Chop onion and bell peppers (unless bought pre-chopped) into 1/2 squares or 1/4 inch wide strips. Place in 9×13 inch baking dish.
Rinse chicken breast and cut into thin strips. Add to dish with vegetables.
Add vegetable oil to vegetables and chicken; toss. Sprinkle fajita seasoning over mixture and toss again!
Bake in preheated oven for 20 minutes. Stir together after the first 20 minutes and continue cooking for another 20 minutes.
Serve hot on your choice of prepared tortillas or eat over a bed of lettuce. Top with sour cream, cheese, hot sauce, and even a sprinkle of lime if you wish!