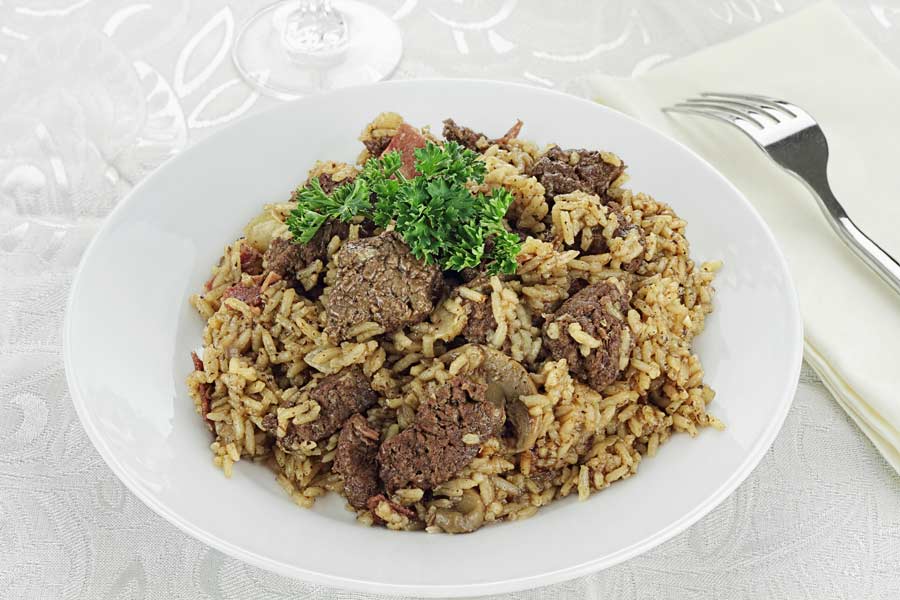 Ingredients
6 slices bacon (thick cut works well – or add a few more slices if using thin bacon)
1/4 cup flour
1/8 teaspoon pepper
2 pounds boneless venison, de-fatted and cut into 1 " cubes
1 can beer
10 ounces low-sodium beef broth
1 envelope dry onion soup mix
1 medium onion sliced
1 tablespoon honey
1 tablespoon thyme leaves
1 tablespoon parsley
2 tablespoon red wine vinegar
Hot buttered noodles (or rice/mashed potatoes)
Directions
Using an oven proof dutch oven or large fry pan, fry bacon until crispy, reserving bacon fat in pan. Cool bacon, crumble and set aside.
Combine flour and pepper and put into a shaker bag.
Shake venison cubes in flour in the bag.
Brown the venison cubes in bacon fat.
Stir in the can of beer, broth, onion soup mix, honey and thyme.
Bring to a low boil for a few minutes.
Cover and cook in 325 F oven for 1 hour.
Uncover and stir in sliced onion. Continue baking for another 1/2 hour until venison is tender.
Remove from oven and stir in red wine vinegar, parsley and crumbled bacon.
Serve over buttered noodles (or over mashed potatoes or rice if preferred).