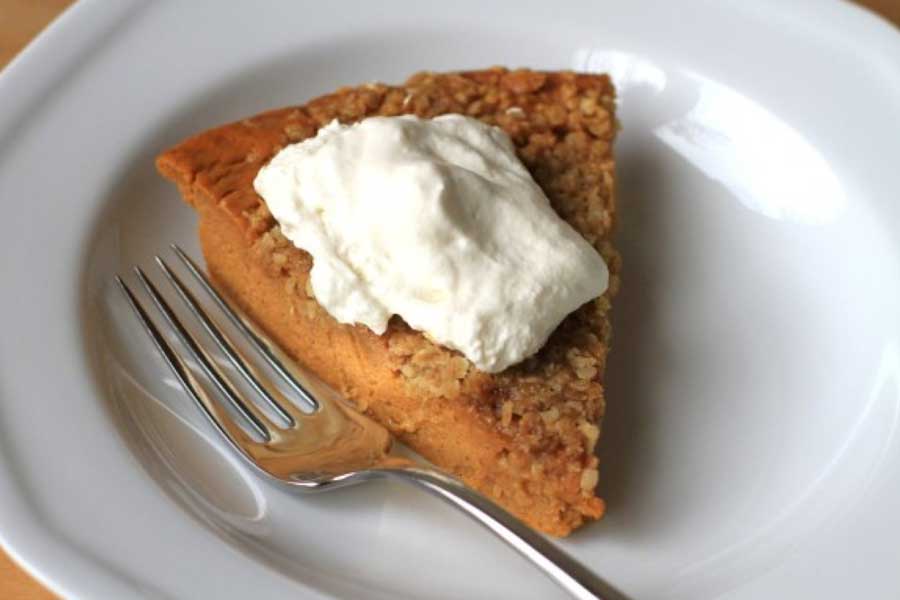 Ingredients
 1 16 oz. can pumpkin ( 2 cups)
1 12 oz. can evaporated skim milk
2 eggs
2 egg whites
1 T. molasses
3/4 c. sugar
1 t. cinnamon
1/4 t. each  allspice ginger, salt
1/2 c. graham cracker crumbs
1/3 c. flour
1/4 c. brown sugar
1/4 t. each cinnamon, nutmeg, ginger
2 T. oil
1/3 c. walnuts, crumbled
Directions
Combine and beat pumpkin, molasses, milk, eggs and egg whites, until smooth
Mix in sugar and spices and blend well.
Stir in crumbs.
Spray a high-sided 9-inch pie plate with cooking spray and pour pie filling into pan.
Combine the flour, brown sugar, spices, oil and walnuts and sprinkle on top of the filling.
Bake in a preheated oven at 325 for 45-55 minutes until a knife inserted in the center comes out clean.
Cool on a rack and refrigerate overnight.