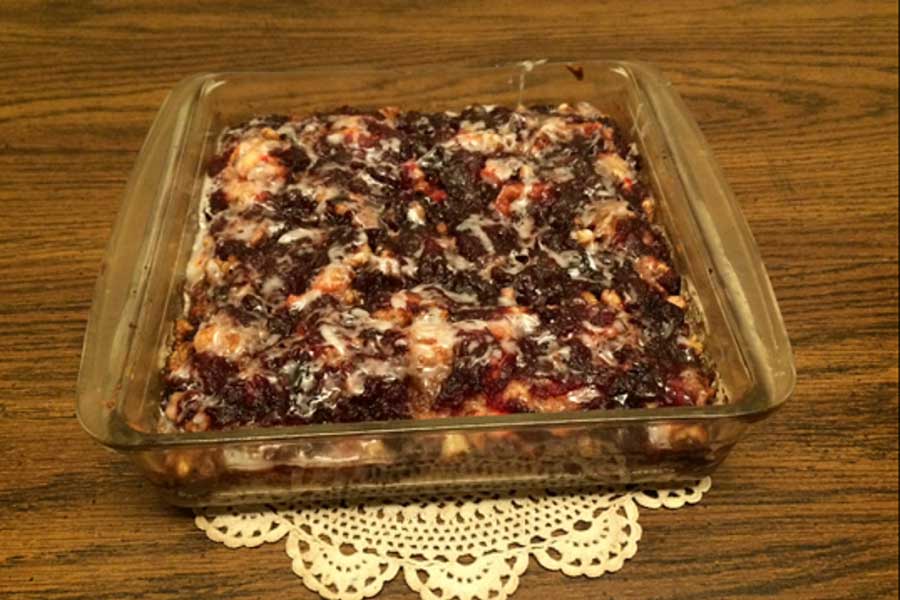 Cake Ingredients
1/4 cup brown sugar
1/2 cup chopped walnuts
1/2 teaspoon cinnamon
2/3 cup water
2 cups buttermilk biscuit mix
2 tablespoons sugar
1 egg
2/3 cup whole berry cranberry sauce
Icing Ingredients
1/2 cup confectioners  sugar
1/2 teaspoon vanilla
1 tablespoon warm water
Cake Directions
Preheat oven to 400 degrees.
Mix brown sugar, walnuts and cinnamon, then set aside.
Combine baking mix, sugar, egg and water and beat vigorously for 30 seconds.
Spread in greased 9×9 inch pan and sprinkle with nut mixture. Also spoon cranberry sauce over top.
Bake for 20 to 25 minutes.
Icing Directions
Blend all ingredients, adding a few more drops more of water if necessary for a drizzling constancy.
While warm, drizzle cake with icing.
Enjoy!