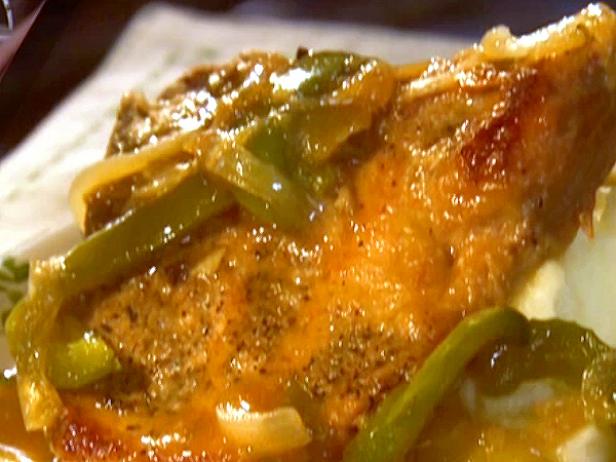 Ingredients
4 center-cut pork chops, 1-inch thick
salt and pepper
ground cayenne pepper
2 tablespoons butter
1/4 cup flour
2 bell peppers, cut into strips
1 onion, cut into strips
3 cloves garlic, minced
2 cups chicken broth
2-3 dashes Worcestershire sauce
Directions
Trim excess fat from chops and season well with salt, pepper, and cayenne.
Melt butter in a deep skillet over medium high heat.
Roll the chops in flour, shake off any excess, then slip them into the pan.
Brown well, about 3-5 minutes per side, and remove them to a plate.
In the same skillet- add the bell peppers and onion and sauté until soft, about 3-5 minutes.
Stir in the garlic and cook until fragrant, about 30 seconds .
 Push veggies to the side of the skillet. Add chops to pan and place vegetables on top of pork chops.
Pour in the broth and sprinkle in Worcestershire sauce.
Place lid over skillet and allow to simmer 45-50 minutes until tender.
Serve and ENJOY.