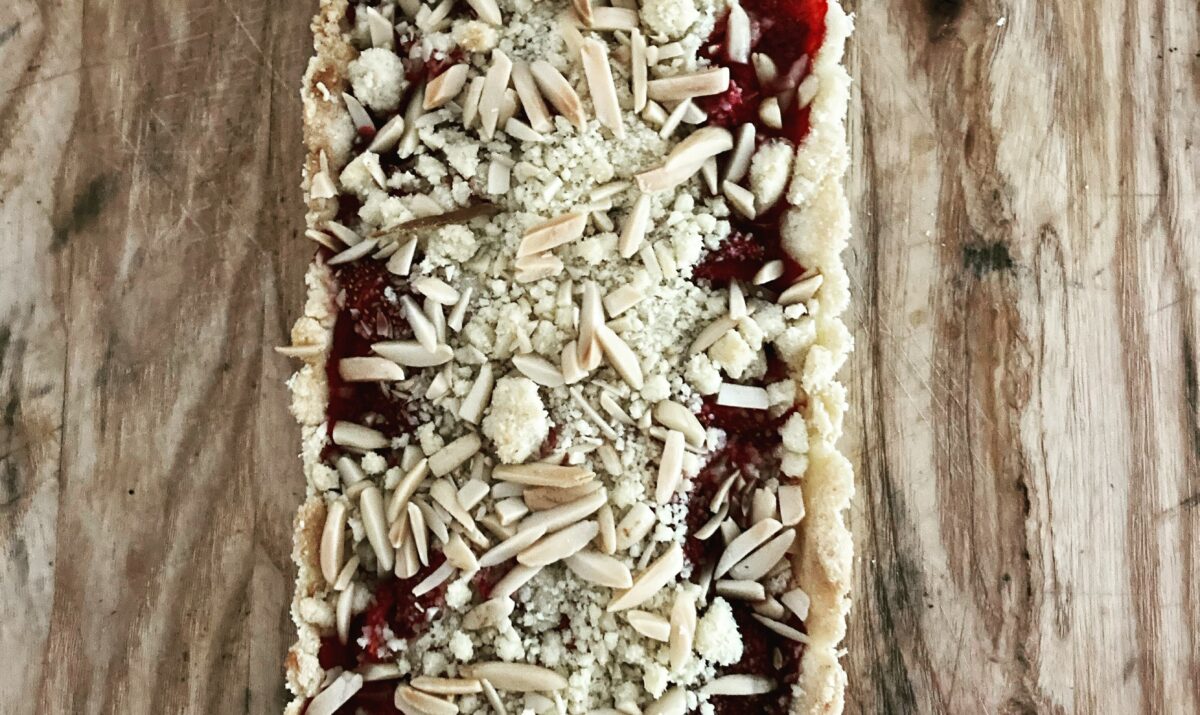 Crust:
1 cup all-purpose flour
1 cup almond flour
½ cup sugar
1 teaspoon salt
1 stick cold unsalted butter, cut into ½ inch cubes
1 tablespoon half and half
Strawberry Filling:
1 pound fresh strawberries, hulled and quartered
3 tablespoons sugar
2 tablespoons cornstarch
1 teaspoon vanilla
1 teaspoon lemon juice
2 tablespoons slivered almonds
Preheat oven to 350 F. Combine flour, almond flour, sugar and salt in the work bowl of a food processor. Process briefly to combine. Sprinkle cubes of butter over the top and pulse until mixture has a sandy texture. With the machine running, add the cream through the feeder tube. Process until dough just begins to clump together in pieces. When you squeeze the dough in your hand it should stick together. Press approximately two-thirds of the dough into a 14 x 4 inch tart pan with a removable bottom, starting at the bottom of the pan and working the dough up the sides as you go. The crust should be about ¼ inch thick. Wrap remaining dough in plastic wrap and reserve for the topping. Refrigerate the tart shell and the reserved dough for 30 minutes. Meanwhile, prepare the Strawberry Filling. Combine all ingredients except almonds in a medium bowl. Set aside to soften at room temperature while the dough continues to chill. Remove the tart pan from the refrigerator. Fill with the strawberry filling. Crumble the remaining dough over the top in small pieces and sprinkle with sliced almonds. Place tart pan on a sheet pan and transfer to the oven. Bake until the tart is golden brown and bubbly, 45-50 minutes. Cool completely before cutting.