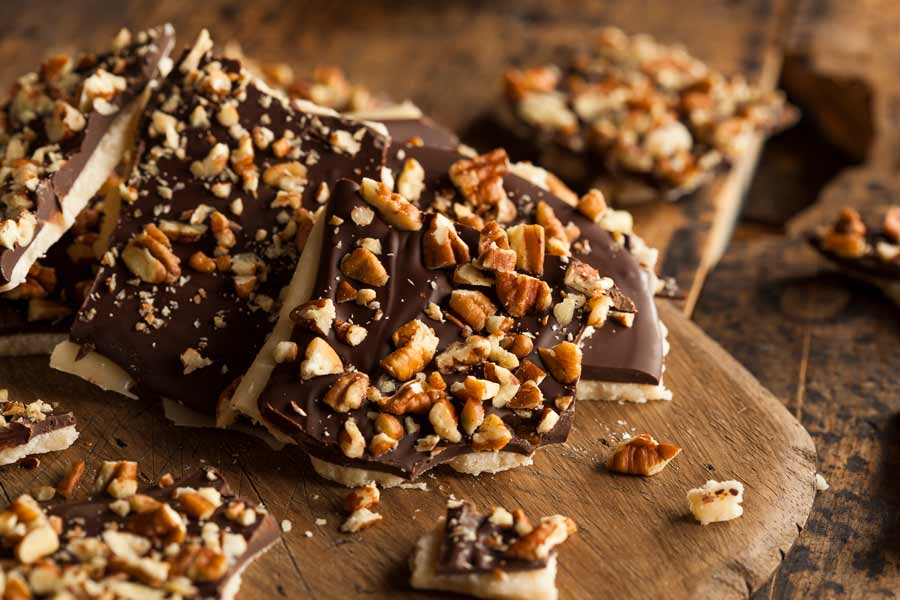 1 (4-ounce) package regular saltine crackers
1 stick butter
1 stick margarine
1 cup brown sugar, firmly packed
1 (12-ounce) package semisweet chocolate chips
1 cup chopped pecans
Preheat oven 350 F. Line the bottom of  a cookie sheet with saltines, salty side up. Place butter and margarine in a saucepan over low heat and stir until melted. Add the brown sugar and stir until ingredients are well blended and sauce-like consistency. Pour the brown sugar syrup evenly over the crackers, smoothing with a wooden spoon. Place in oven 6 to 8 minutes (mixture will bubble on top of saltines and form a toffee layer underneath). Remove cookie sheet from the oven, re-align the saltines with a wooden spoon (they get out line as they bubble). Pour chocolate chips evenly over saltines and put back in oven for 2 minutes to melt. Remove from oven and quickly spread melted chocolate chips as if you were frosting a cake.  Sprinkle evenly with nuts and place in freezer for 10-15 minutes. Remove from freezer and cut into squares with a sharp knife. Cover with foil or store in a container in the refrigerator or freezer. Makes 30 squares.