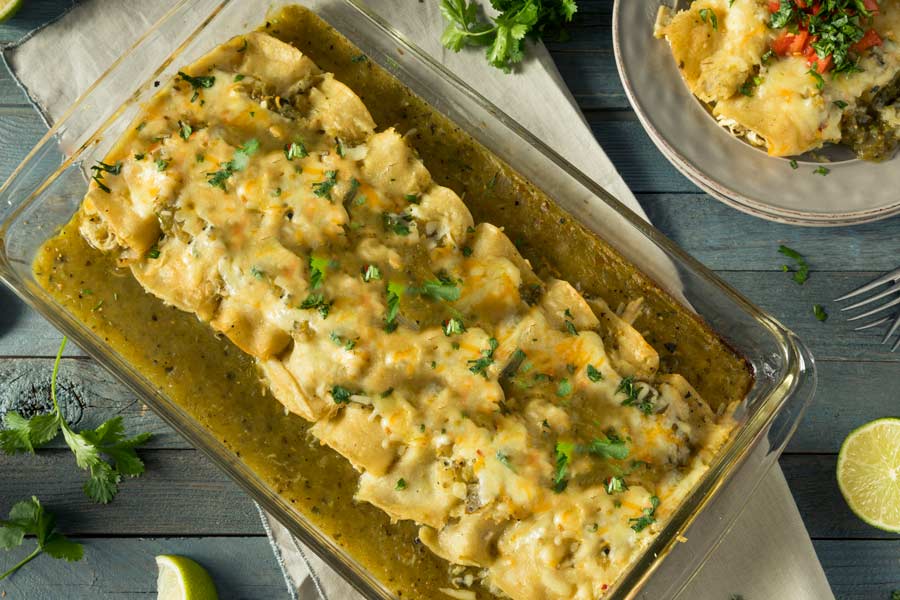 Ingredients
3 chicken breasts, skinless and boneless
1 1/2 teaspoons cayenne pepper, divided
1 tablespoon course salt
1 tablespoon ground black pepper
1 tablespoon garlic powder
2 tablespoons butter
1 large onion, minced
2 jalapeño peppers (or poblano for a milder flavor), seeded and minced
1 (8-ounce) package cream cheese, softened
2 garlic cloves, minced
1/2 teaspoon paprika
1/2 teaspoon chili powder
1 tablespoon ground cumin
1 (28-ounce) can green enchilada sauce
8 ounces shredded Monterey Jack cheese
7 flour tortillas (or corn tortillas for gluten-free)
Directions
Preheat oven to 350 F.
Season chicken breasts with 1 teaspoon cayenne pepper, salt, ground black pepper, and garlic powder.
Bake chicken for 45 minutes (or internal temp of 165 F).  Let cool and shred.  Set aside.
Heat butter in large skillet over medium heat, and add the minced onion, jalapeño peppers and garlic. Cook for about 5 minutes, stirring occasionally.
 Stir in softened cream cheese (in chunks), and the remaining 1/2 teaspoon cayenne pepper, paprika, chili powder and ground cumin.
 Add the shredded chicken and mix thoroughly.  Remove from heat.
In a 9 x 13 baking dish, spread 1/2 the enchilada sauce over the entire bottom.
Fill all tortillas with the chicken mixture and 1 tablespoon of the shredded cheese in each.
Roll each tortilla and place seam-side down in the baking dish.
Pour the remaining enchilada sauce over all the tortillas, sprinkle the tops with remaining cheese.
Bake in the oven for about 30-35 minutes.
Serve immediately.