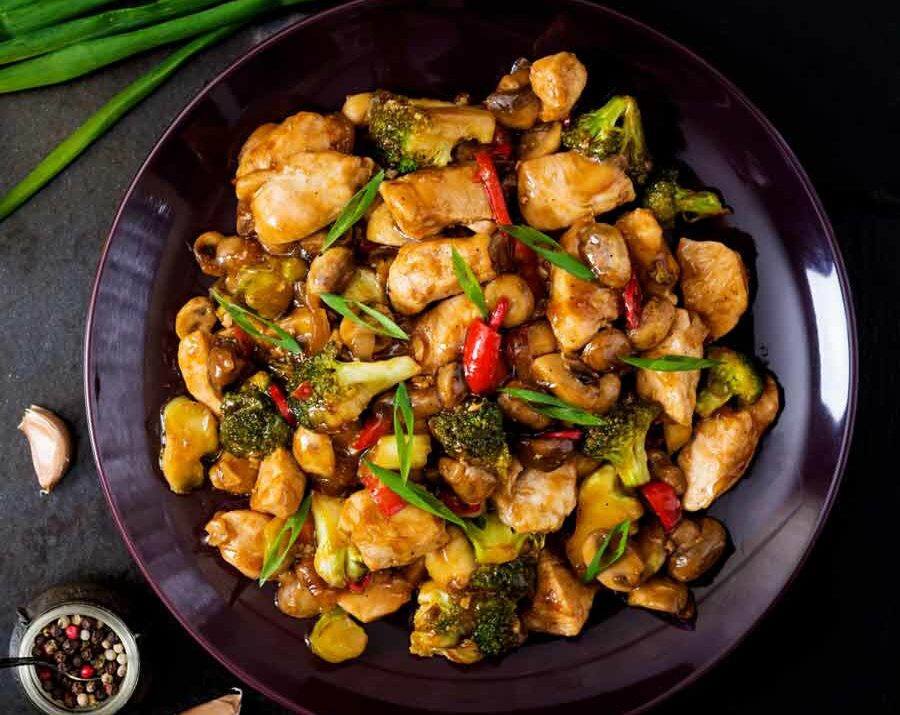 1 pound uncooked chicken breast, cut into 1/4 inch slices
2 tablespoons olive oil
1 small sweet onion
1 small red onion, cut into chunks
8 ounces sliced mushrooms
1 cup chicken broth
1/2 pound asparagus, sliced in 2 inch pieces
1 cup pea pods, strings removed
1 cup broccoli florets
1 cup cauliflower florets
1/4 cup soy sauce
1/2 teaspoon salt
1/2 teaspoon sugar
2 tablespoons cornstarch
green onions, sliced
Heat oil in large wok over medium high heat. Add sliced chicken and sauté until no longer pink. Add onions, mushrooms, broccoli, and cauliflower. Sauté until just beginning to get tender, 3 to 4 minutes. Add 1 cup of broth, put on pan lid and simmer for 2 minutes. Remove lid, then add asparagus and pea pods. Sauté until just beginning to soften and color turns bright. Mix together soy sauce, cornstarch, salt and sugar. Add soy sauce mixture to pan and stir quickly. Continue to stir in all juices and ingredients as sauce thickens. Can also sprinkle cut up green onion on top when finished. Serve alone or over rice. I use this same recipe with venison steak and use beef broth instead of chicken broth.  You can use any vegetables you have on hand, but save the ones that cook quickly for the time period after the 2 minute simmer.