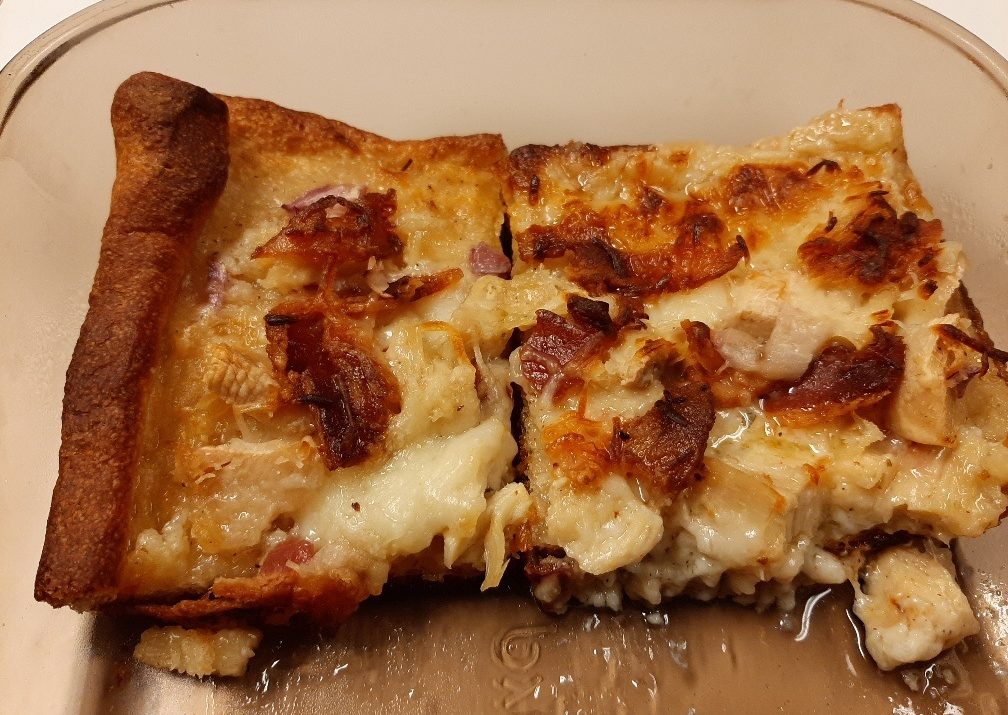 1 (8-ounce) can pizza dough
1 1/2 cups shredded mozzarella cheese
2 cups cooked chicken breast, chopped up
8 slices cooked bacon, crumbled
1/4 cup red onion, chopped
Alfredo Sauce:

1/4 cup butter
1 1/2 ounces cream cheese
1/4 cup grated parmesan cheese
1/2 pint heavy whipping cream
1/2 teaspoon garlic powder
1 teaspoon flour, optional
1/3 cup prepared ranch dressing
salt and pepper to taste
Preheat oven to 425 F, then roll out pizza dough as directed on can; set aside. Do NOT pre-bake. To make Alfredo Sauce, melt butter in medium saucepan over low heat. Add cream cheese and parmesan cheese and stir until melted. Stir in the heavy whipping cream and garlic powder. Increase the heat and bring to a boil. Decrease heat and simmer, stirring often. Add flour as needed, if sauce does not thicken as you would like. Stir and cook until it reaches a nice gravy-like thickness. Remove from heat. Spread ranch dressing on the rolled out dough, then spread the Alfredo sauce on it. Sprinkle 1/2 the mozzarella cheese on, then add shredded chicken, bacon, and chopped onion. Sprinkle with remaining cheese. Bake at 425 F for 20 minutes or until crust appears done on the bottom. Let cool a few minutes, then slice and enjoy!