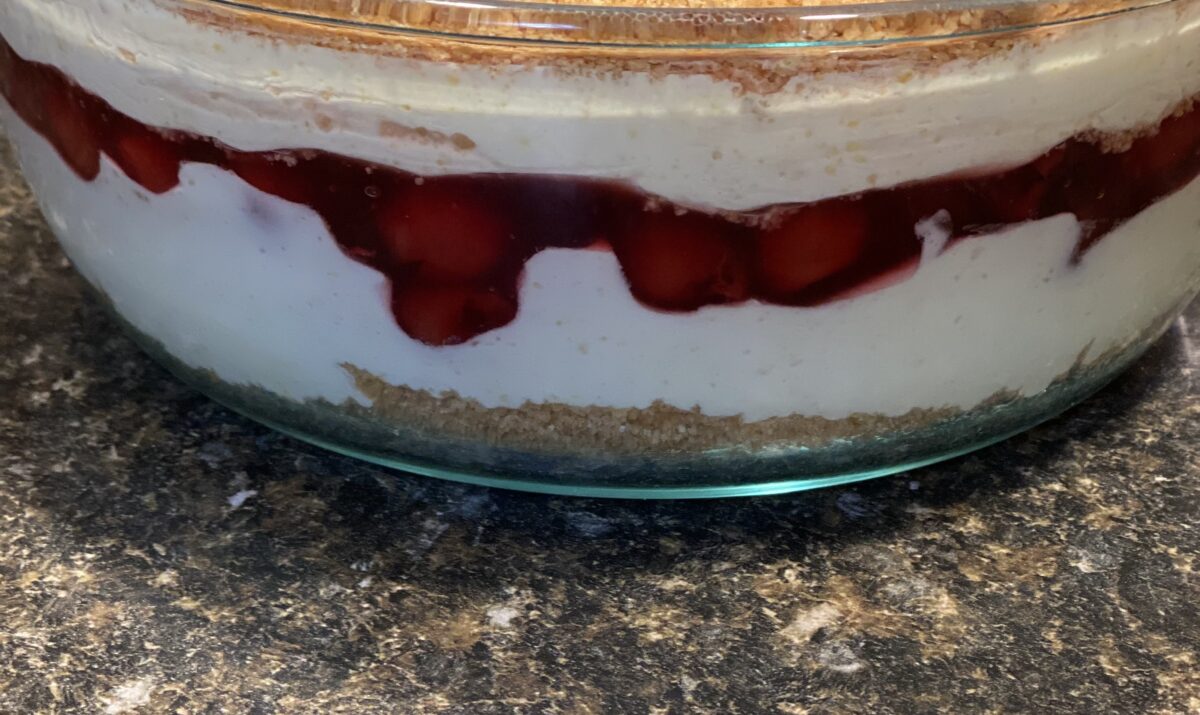 Ingredients
6 cups cherry pie filling
2 1/2 cups honey graham cracker crumbs
6 tablespoons butter
2 cups thawed whipped topping
3.4-ounce instant vanilla pudding mix
2 cups cold milk
Cherry Pie Filling (or use 2 – 21 oz cans of filling)
6 cups fresh pitted cherries (3 pounds)
1/2 cup water
2 tablespoons freshly squeezed lemon juice
2/3 cup granulated sugar
4 tablespoons cornstarch
1/4 teaspoon almond extract, optional
Cherry Pie Filling Directions
Combine cherries, water, lemon juice, sugar and cornstarch in saucepan over medium heat.
Bring to a boil; reduce heat to low and cook, stirring frequently, for 12 minutes.
Stir in almond extract if using.
Allow to cool completely before finishing recipe. Filling can be made the day before and refrigerated.
Directions
Melt butter and combine with sugar and graham cracker crumbs.
Prepare pudding with milk as directions indicate; let stand 5 minutes, then gently fold in whipped topping.
Use a 2-quart glass bowl or 9×13 pan, spread a layer of graham cracker mixture in the bottom.
Spread half of the pudding mixture over graham crackers.
Spread all of cherry pie filling over the pudding mixture.
Spread remaining pudding mixture over cherries.
Sprinkle remaining cracker mixture on top.
Cover and chill for at least 3 hours before serving.