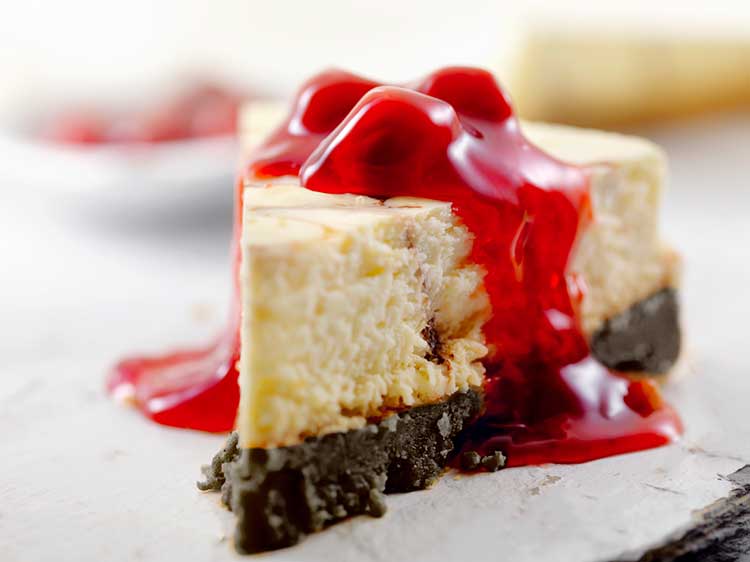 Ingredients
2 cup sugar, divided
1/4 cup corn starch
1/3 cup water
1 tablespoon lemon juice
30-40 ounces cherry pie filling
1 teaspoon almond extract
25 Oreo cookies
6 tablespoons butter
40 ounces softened cream cheese
2 tablespoons vanilla extract
1 cup heavy cream
fresh berries for garnish
Directions
Mix together 1 cup sugar, 1/4 cup corn starch, 1/3 cup water, 1 tablespoon lemon juice in saucepansauce pan and cook. Stir with a whisk constantly until the mixture turns to a light brown color.
Add in ~30oz cherry pie filling and 1 teaspoon almond extract and reduce.
Freeze cherry mixture in 9-inch pan for 3-4 hours.
To make cookie crust, crush 25 Oreos and mix with 6tbs melted butter, press into 9-inch spring form pan and freeze for 10 minutes.
For cream cheese mixture, mix 40 ounces softened cream cheese with 1 cup of sugar, 2 tablespoons vanilla extract and 1 cup of heavy cream until smooth.
To assemble, add some cream cheese mixture onto the Oreo crust, smooth it out. Freeze for another 10 minutes. Then put frozen cherry filling onto the cream cheese and then cover with remaining cream cheese mix. Garnish with fresh fruit. Chill for at least 4 hours.