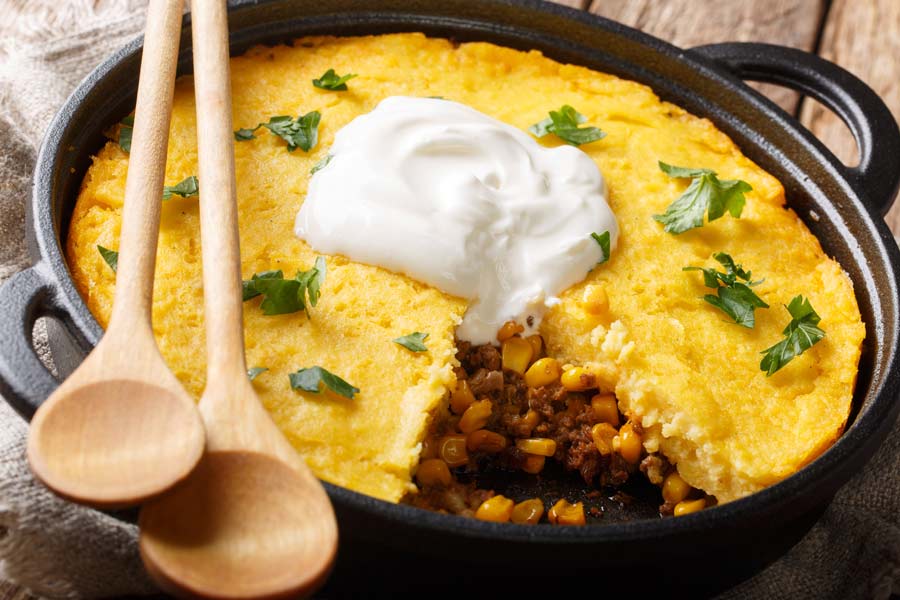 Ingredients
1 pound ground beef
1-2 tablespoons taco seasoning mix
1/2  cup chopped green onion
1 can (4.5-ounces) chopped green chilies
2 eggs
1 can (14 3/4-ounces) cream-style corn
1 cup milk
1/2 cup canola oil
1 cup cornmeal
3 tablespoons all-purpose flour
1 & 1/2 teaspoons baking powder
3/4 teaspoon salt
3 cup shredded cheddar cheese, divided
Toppings: shredded lettuce, sour cream, diced tomatoes, etc.
Directions
Brown beef in large skillet, remove from heat. Drain; stir in seasoning mix, green onion and chiles.
In a medium bowl, beat eggs, corn, milk and oil. Stir in cornmeal, flour, baking powder and salt. Mix well and pour half of the batter into a greased 13-in. x 9-in. baking dish.
Sprinkle with 1 and 1/2 cups cheese. Top with beef mixture. Sprinkle with remaining cheese. Top with remaining batter.
Bake, uncovered, at 350 F for 50-60 minutes. Cut into squares, serve warm with desired toppings. Yield: 12 servings.