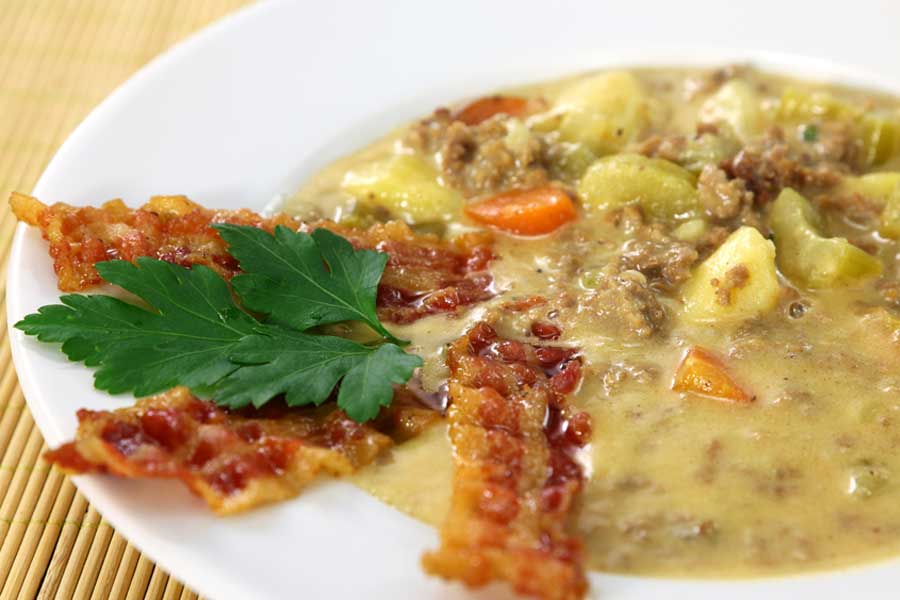 Ingredients
6 medium potatoes, peeled and cubed
1 small carrot, grated
1 small onion, chopped
1/2 cup chopped green pepper
2 tablespoons chopped seeded jalapeno pepper
3 cups water
2 tablespoons plus 2 teaspoons beef bouillon granules
2 garlic cloves, minced
1/8 teaspoon pepper
2 pounds ground beef
1/2 pounds sliced fresh mushrooms
2 tablespoons butter
5 cups 2% milk, divided
6 tablespoons all-purpose flour
1 package (16 ounces) processed cheese (Velveeta), cubed
Crumbled, cooked bacon
2 tablespoons McCormick's Steak Sauce
Directions
1. In a Dutch oven, bring the first nine ingredients to a boil. Reduce heat; cover and simmer for 10-15 minutes, or until potatoes are tender.
2. Meanwhile, in a large skillet, cook beef and mushrooms in butter over medium heat until meat is no longer pink; drain. Add to soup. Stir in 4 cups milk; heat through.
3. In a small bowl, combine flour and remaining milk until smooth; gradually stir into soup. Bring to a boil; cook and stir for 2 minutes or until thickened. Reduce heat; stir in cheese until melted. Garnish with bacon. Yield: 14 servings (about 3-1/2 quarts).