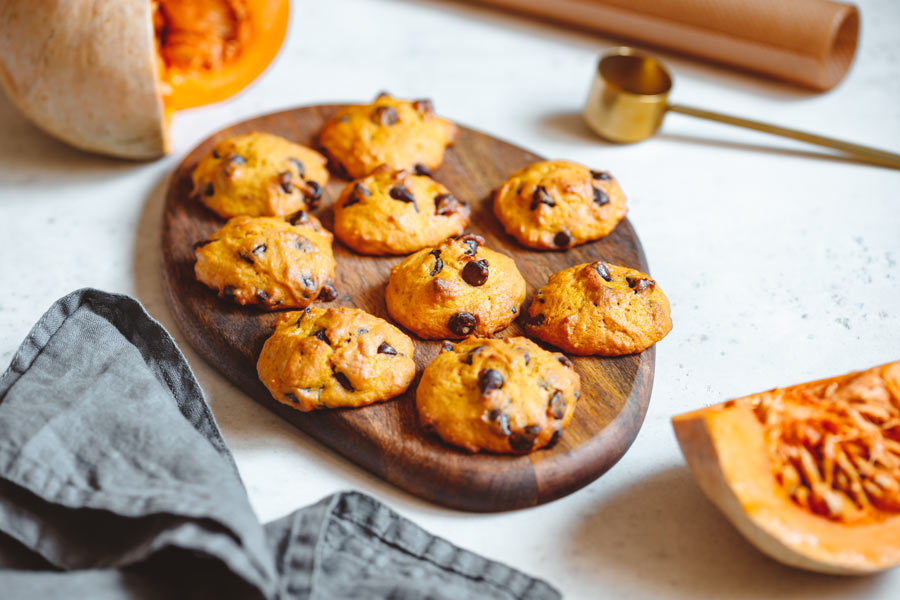 4 cups flour
2 cups rolled oats
2 teaspoons baking soda
2 teaspoons cinnamon
1 teaspoon salt
1 1/2 cups butter (3 sticks)
1 egg
1 teaspoon vanilla
16 ounces pumpkin (1 can)
2 cups brown sugar
12 ounces chocolate chips
Preheat oven to 350 F. In a large bowl, combine flour, oats, baking soda, cinnamon, and salt. In another large bowl, cream the butter. Then gradually add the brown sugar, beating until light and fluffy. Add egg and vanilla; mix well. Alternate additions of dry ingredients and pumpkin, mixing well after each addition. Stir in chocolate chips. Drop dough 1/4 cup at a time onto lightly greased cookie sheet (using a large cookie dough scoop or using two spoons). Bake 20-25 minutes until cookies are firm and lightly browned. Remove from cookie sheet; let cool on racks. Makes 3 dozen cookies.