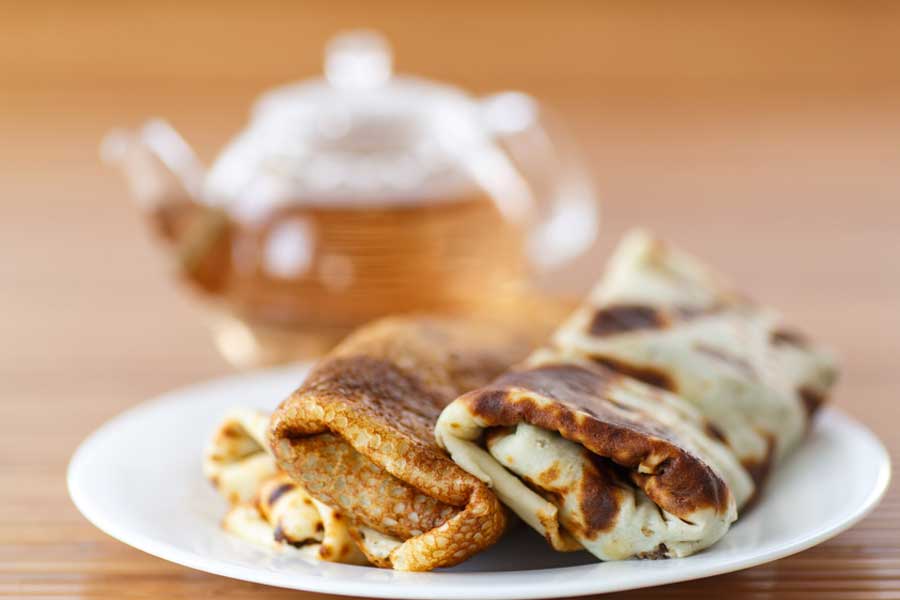 Crepe Batter Ingredients
2 eggs
2 tablespoons butter, melted
1/2 cup milk
1 cup flour
1/2 cup water
1/2 teaspoon salt
Cabbage Filling Ingredients
3 tablespoons butter
2 tablespoons flour
2 cups minced onion
3/4 cup milk
1 quart (1#) cabbage, shredded
3/4 teaspoon salt
1/4 teaspoon pepper
1 teaspoon caraway seeds
1/4 cup melted butter
Directions
Place all batter ingredients in blender; cover and blend until smooth, stopping to scrape down sides occasionally. Let rest at room temperature for one hour before using.
 Lightly grease 7″ skillet and heat over medium heat.
Pour about 2 tablespoons batter into pan, tilting to cover bottom.
Cook until golden brown around edges and dry in the middle. Turn and cook briefly on the other side.
Cool on cake rack.
Repeat process for each crepe, then set aside.
In a large skillet melt 1 tablespoon butter. Add onions and sauté until golden.
Add cabbage and caraway seeds, cover and cook until tender, stirring occasionally, for about 15 to 20 minutes.
Add 2 tablespoons butter to skillet and stir until melted. Sprinkle with flour and stir to combine.
Add milk, salt and pepper  and cook stirring constantly until thickened.
Let cool slightly, then place a heaping tablespoon of filling on bottom third of each crepe.
Roll up and place in greased 13×9 inch baking dish. Preheat oven to 400 degrees.
Pour melted butter over crepes and bake for 10 minutes or until heated through.
Let cool and enjoy!