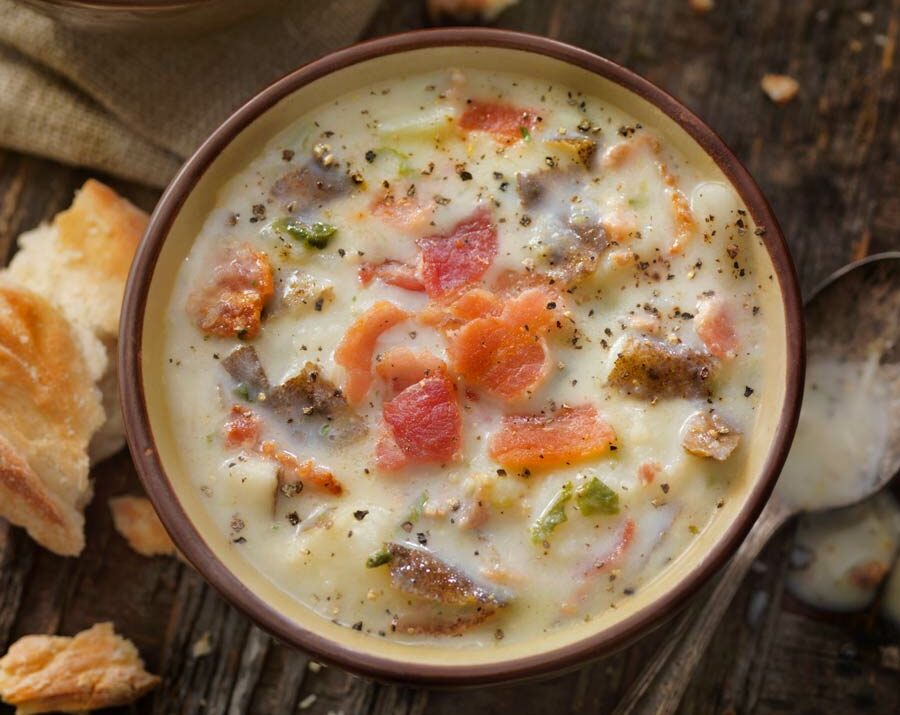 Ingredients
2 tablespoons olive oil
1 cup chopped bacon
2 onions, chopped
2 garlic cloves, finely chopped
7 1/2 cups vegetable stock
2 1/3 cups diced potatoes
3 cups shredded cabbage
1 teaspoon Worcestershire or Tabasco sauce
1 teaspoon Dijon mustard
3 teaspoons finely chopped parsley
salt and pepper
Directions
Heat the olive oil in a large pan.
Add bacon, onions and garlic.
Cook over medium heat, stirring frequently for 5-7 minutes until bacon is crisp and onions are browned.
Pour in vegetable stock.
Add potatoes, cabbage, Worcestershire and mustard.  Mix well.
Bring to a boil, then reduce heat and simmer for 30 minutes.  Stir occasionally.
Remove pan from heat and allow to cool slightly.
Transfer 2 1/2 cups to food processor or blender.
Process briefly to a coarse puree and return to pan.
Stir well and return soup to heat.
Cook, stirring frequently for 5-10 minutes.
Season with salt and pepper.