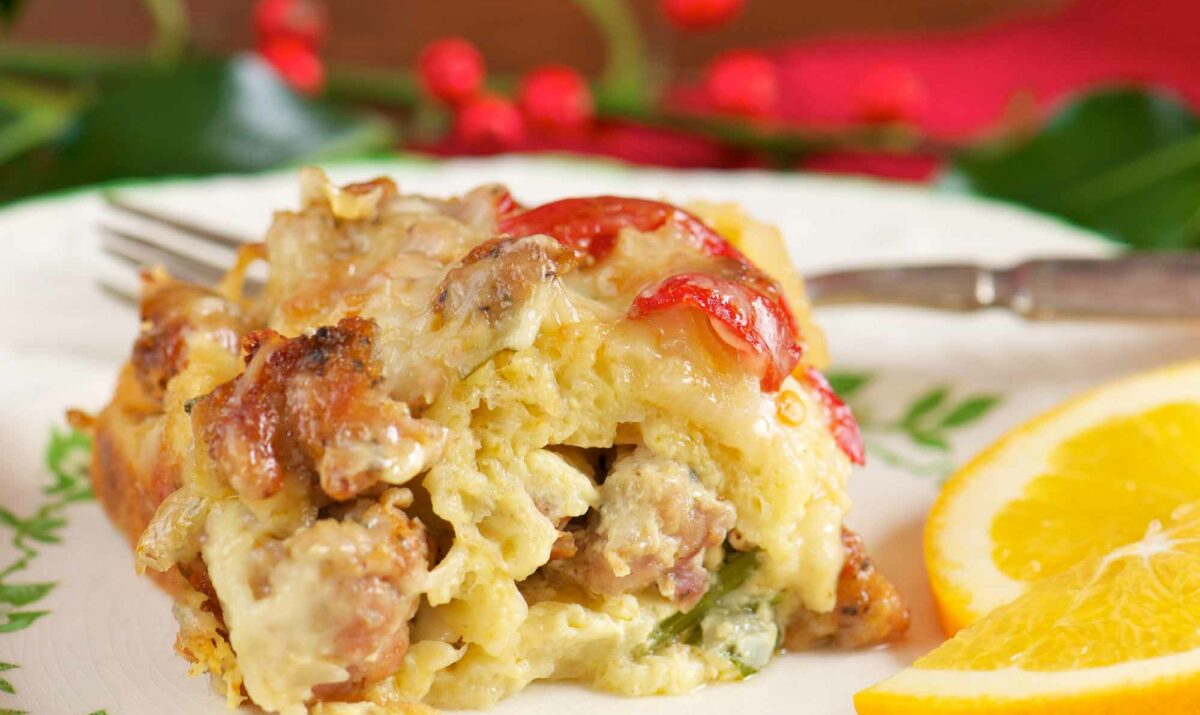 1 pound bacon, divided
1 pound ground sausage, divided
canned biscuits, 8 count
1 cup finely chopped onion
2 cups grated cheese, divided
6 eggs
3 1/3 cups milk, divided
1/8 teaspoon nutmeg
1/2 cup flour
1/8-1/4 teaspoon salt
1/8-1/4 teaspoon black pepper
Optional: mushrooms, diced red or green bell pepper, red pepper flakes
Preheat oven to 350 F. Fry the bacon and sausage; drain grease. Cut or crumble the bacon into pieces and place both together back into a big frying pan or saucepan. Grease sides and bottom of 9×13 pan. Cut biscuits into quarters and place in bottom of the pan. Layer a quarter of both the bacon and sausage over the biscuits; sprinkle with onion and 1 cup cheese. Whisk eggs in a bowl; stir in 1/3 cup milk and nutmeg. Pour evenly over the biscuits. To the remaining three quarters of sausage and bacon, add flour, salt and pepper (and optional ingredients), and remaining 3 cups milk. Cook over medium heat until bubbly and thickened. Pour over biscuits and sprinkle with remaining 1 cup cheese. Bake at 350 F for 45 minutes.