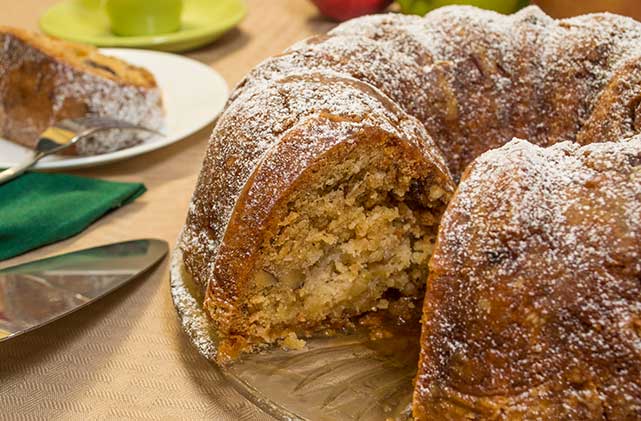 Ingredients
For the cake:
1 1/2 cup oil
3 eggs
2 cups sugar
2 teaspoons vanilla
3 cups flour
1 teaspoon baking soda
1 teaspoon salt
1/2 teaspoon cinnamon
1 cup walnuts, chopped
3 cups peeled & chopped apples
For the sauce:
1 cup brown sugar
1/2 cup butter
1/4 cup milk
Directions:
Cream oil, sugar, eggs and vanilla.
Sift together flour, baking soda, salt and cinnamon; add to creamed mixture. Beat well.
Fold in nuts and apples. Bake in well-greased Bundt pan at 350 degrees for 1 hour and 10 min.
When cake is almost done, mix sauce ingredients in a saucepan.
Bring to a boil; boil for 3 minutes.
Pour sauce over hot cake and let cake remain in pan for 2 hours. Then turn cake right side up on serving plate.