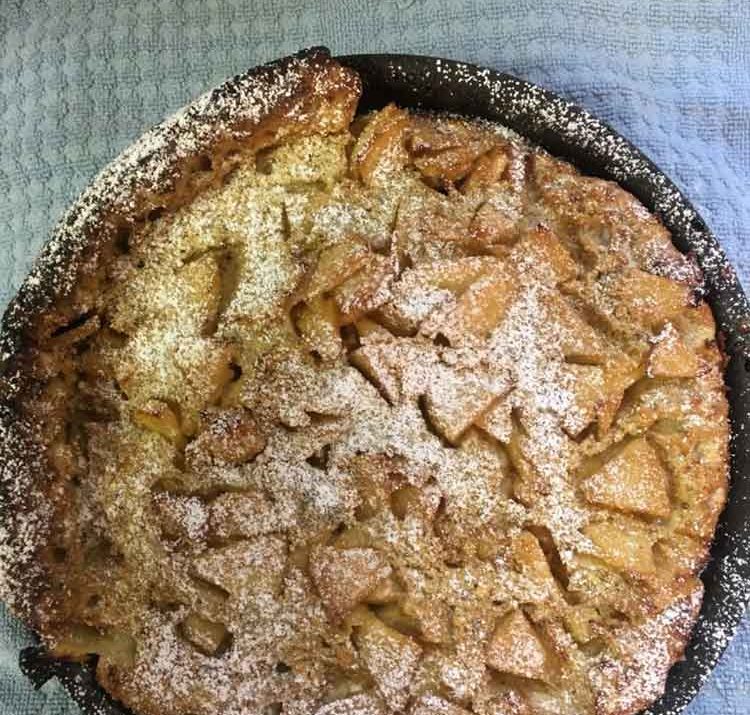 Ingredients
1 large or 2 medium apples, peeled and sliced
1 tablespoon granulated sugar
3 tablespoon butter, divided
4 large eggs
3/4 cup low-fat or fat-free milk
1 teaspoon vanilla
3/4 cup all-purpose flour
1 tablespoon brown sugar
1/2 teaspoon salt
1/2 teaspoon ground cinnamon
1/4 teaspoon ground nutmeg
Confectioner's Sugar (Optional)
Directions
Preheat oven to 450°.
Heat a 9" or 10" cast-iron or oven-proof skillet over medium-high heat for 5 minutes.
Melt 1 T butter in skillet; add apples and 1 T granulated sugar. Sauté 3-5 minutes or until tender. Remove apples from skillet and wipe clean.
Whisk together eggs, milk and vanilla in medium bowl. Whisk in flour and next 4 ingredients.
Melt remaining 2 T butter in skillet over medium-high heat. Immediately pour egg mixture into hot skillet, and top with cooked apples.
Bake at 450° for 17-20 minutes or until pancake is golden and puffed.
Dust with confectioner's sugar, if desired.
Pancake can be slipped onto a plate/serving dish or served right from pan for a more rustic presentation.
Slice into wedges and serve hot with maple syrup.
Notes: Low-fat or fat-free milk will cause the pancake to puff higher. Pancake will begin to deflate when removed from oven, though flavor will not be affected.