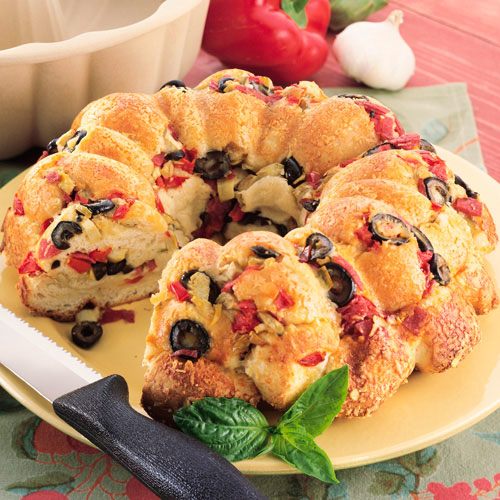 Ingredients
1 jar (6 1/2 ounce) marinated artichoke hearts, drained
1/2 cup sliced deli hard salami, chopped
1/3 cup red bell pepper, chopped
1/2 cup pitted ripe olives, sliced (optional)
2 garlic cloves, pressed
1/4 cup butter, melted
4 ounces fresh grated Parmesan cheese (about 1 cup)
2 packages (11.3 ounce) refrigerated biscuits
Directions
Preheat oven to 375 F.  Spray a fluted pan with non-stick spray.
Pat dry artichoke hearts. Chop them.
Mix chopped artichokes, salami, bell pepper, olives and pressed garlic. Set aside.
Cut each biscuit into fourths. Dip pieces into melted butter then cheese. Put 16 pieces into pan. Sprinkle 1/2 cup artichoke mixture onto biscuits. Repeat twice with bread then the artichoke mixture ending with the bread. Add any remaining cheese.
Bake 25-30 minutes. Cool 5 minutes, then invert onto a plate.
Pull pieces off to eat and enjoy!