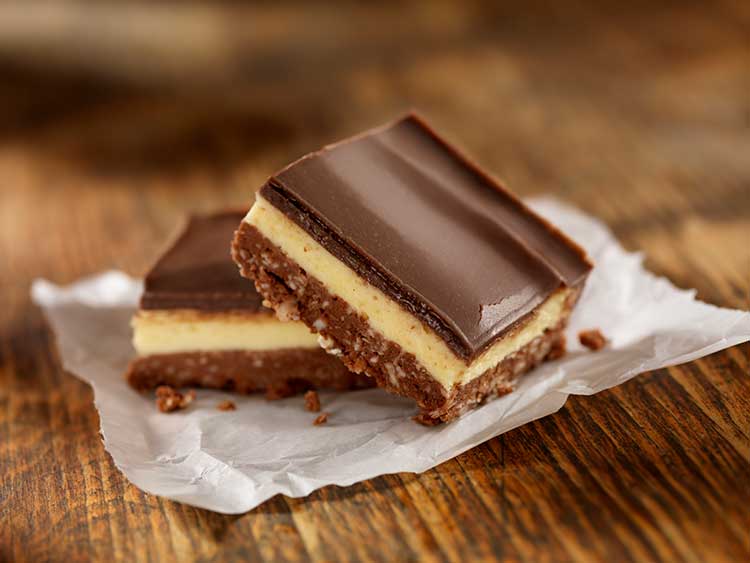 Ingredients
1/2 cup butter/margarine
1/4 cup sugar
1/3 cup cocoa
1 teaspoon vanilla
1 beaten egg
2 cups crushed graham crackers
1/2 cup finely chopped walnuts
1/2 cup coconut (optional)
1/2 cup butter
3 tablespoons milk
3 tablespoons vanilla instant pudding
2 cups powdered sugar
1 1/2 cups semi-sweet chocolate chips
6 tablespoons butter/margarine
few drops water
Directions
FIRST LAYER
In double-boiler over medium heat, combine first 3 ingredients until melted and combined
add vanilla and beaten egg to above and low boil for minutes (stirring to avoid burning)
removed from heat and add graham crackers, nuts and coconut (optional)
Press completed first layer into buttered 9×12/9×13 pan
chill 30 minutes or until firm
SECOND LAYER
cream butter, milk and vanilla pudding
beat in powdered sugar until smooth and creamy
spread evenly over FIRST LAYER
chill 30 minutes or until set
THIRD LAYER
melt chips and butter
add a few drops water for smooth consistance
spread over chilled SECOND LAYER
chill until chocolate set
cut into squares and share with your favorites!
AWESOME!!
Serve immediately.